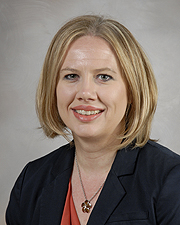 Brandy J. McKelvy, MD, FCCP
Associate Professor
Co-Director, Required Critical Care Course for MSIVs
Chair, Institutional Ethics Committee
Sleep Medicine
Pulmonary Medicine
Critical Care Medicine
Biography
" 'To hope, to heal, to care'  Every patient is unique and has different needs.  We want to partner with our patients to educate them and help them with their disease as best we can."
Dr. Brandy McKelvy is an Assistant Professor of Medicine in the Divisions of Pulmonary, Critical Care and Sleep medicine at McGovern Medical School at The University of Texas at Houston, and has been a faculty member since 2005.  She originally did her undergraduate training at Tulane University in New Orleans, LA.  Dr. McKelvy graduated summa cum laude with a degree in Biomedical Engineering with a Minor in Mathematics.  After that she attended The University of Texas Medical School at Houston.   She continued there with an internship and residency in Internal Medicine.  She stayed on to complete sub-specialty training in Pulmonary, Critical Care and Sleep Medicine fellowships.
Currently, leadership activities for Dr. McKelvy include: Assistant Program Director for Required Critical Care Clerkship for 4th year medical students, Internal Medicine Core Faculty, Physician leader for Rapid Response team at Memorial Herman Hospital-TMC, Physician Leader of the Code Committee at Memorial Herman Hospital- TMC.  Nationally, she is a Fellow of the American College of Chest Physicians (CHEST) as well as a current member of the ACCP and the American Thoracic Society (ATS).  Locally, her involvement includes membership in the Texas Chapter of Society of Critical Care Medicine, of which she has served as a board member since 2011.
Accolades include being named "Physician of the Year" at Memorial Herman Hospital-TMC for 2012, and multiple years on the "Dean's Teaching Excellence" list.   She received 1st Place Sustainability award at the University of Texas System 2012 Clinical Safety and Effectiveness Conference for her project entitled "Extension of the daily Spontaneous Breathing Trial (SBT's) protocol into other ICU's to decrease the length of stay on the ventilator."  Campus activities include membership on the Ethics Committee, the Medical Safety and Quality Review Committee and being the Pulmonary division Quality improvement leader.  Dr. McKelvy has completed training in quality improvement thru the CS&E training program at UTHealth.  Additional teaching activities include: education of internal medicine residents, pulmonary and critical care fellows, 2nd year medical student preceptorship program and ethics small group facilitator, 3rd year medical student core curriculum, and 4th year medical student critical care lectures.
Regarded by patients as a physician who is easy to talk to, Dr. McKelvy's practice philosophy centers on teamwork that delivers efficient and effective healthcare.
A resident of Houston, her favorite leisure activities are travel, exercise (including tennis and softball), and wine tasting.
Education
Medical Degree

The University of Texas Medical School at Houston, Houston, TX

Residency

Internal Medicine, The University of Texas Medical School at Houston, Houston, TX

Fellowship

Pulmonary & Critical Care Medicine, The University of Texas Health Science Center at Houston, Houston, TX

Fellowship

Sleep Medicine, The University of Texas Health Science Center at Houston, Houston, TX
Areas of Interest
Clinical Interests
Pulmonary arterial hypertension
Sleep disorders in the adult
General pulmonary diseases
Medical student, resident and fellowship education
Research Interests
Quality improvement in critical care units
Use of sepsis alerts to decrease mortality
Ventilator weaning protocols
Publications
Board Certifications
American Board of Internal Medicine – Internal Medicine
American Board of Internal Medicine – Pulmonary Disease
American Board of Internal Medicine – Critical Care Medicine
American Board of Internal Medicine – Sleep Medicine