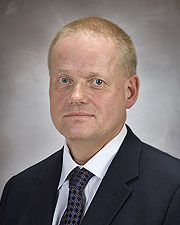 David D. McPherson, MD, FACP, FACC, FAHA
Chair
Professor
Director, Cardiovascular Medicine
Biography
Dr. McPherson was trained at the University of Alberta, Dalhousie University, and the University of Iowa. In 1989, he was recruited to Northwestern University to develop an ultrasound based imaging group. He was recruited to The University of Texas Health Science Center at Houston (UTHealth) McGovern Medical School to head the Division of Cardiology in 2006.
Dr. McPherson is the recipient of many distinctions, awards, and grants for the development and use of new and innovative ultrasound tools and devices for the evaluation and treatment of atherosclerosis in coronary and peripheral vascular beds. These include National Institutes of Health and American Heart Association awards. He is a reviewer for many journals including Circulation, Circulation Research, and the American Journal of Physiology. He is on the editorial board of the American Journal of Physiology; and is a standing grant reviewer/grant review co-chairman for the National Institutes of Health and the American Heart Association. Dr. McPherson serves on councils and committees for the American Society of Echocardiography, American Federation for Clinical Research and American Heart Association. He is a supervisor for biomedical engineering doctoral students, cardiology fellows, residents, and medical students training in advanced echocardiographic research. Prior to coming to Texas, he was responsible for a large advanced echocardiography training course for the Midwest.
Clinical interests include the evaluation of valvular heart disease, adult congenital cardiology, and clinical echocardiography including transesophageal echocardiography (TEE).
Current research projects include the development of new acoustic agents for ultrasound tissue enhancement and targeted drug and gene delivery, the development of new ultrasound techniques to guide angioplasty and stent placement, and new three-dimensional techniques for cardiac and vascular reconstruction.
Dr. McPherson is the author of 105 manuscripts, 247 abstracts, 20 book chapters, 13 review articles, 7 editorials in the fields of evaluating atheroma, drug and gene delivery, and cardiovascular dynamics. He is the co-editor of the textbook Non-invasive Imaging of Atherosclerosis.
Accomplishments
2009-2010 National Institutes of Health-Regular Research Grant (RO1) (3 awards)
2004-2008 National Institutes of Health- Regular Research Grant (R01) (2 grants)
2003-2007 National Institutes of Health- Regular Research Grant (R01)
2001-2003 Northwestern University- Institute for Bioengineering and Nanoscience in Advanced Medicine Incubator Funding Grant
2001-2002 State of Illinois- Excellent in Academic Medicine Program
1999-2002 American Heart Assoc Chicago, Heart-Affiliate Scientist Development Grant
1999-2002 National Institutes of Health-Regular Research Grant (R01)
1999-2001 National Science Foundation-Innovative Research Grant
1998-2001 National Institutes of Health-Regular Research Grant (R01)
1996 American Heart Association, Chicago-Heart Affiliate Grant-in-Aid
1995 National Institutes of Health-Small Grant for Innovative Technology (SGIT)
1995 Northwestern Memorial Hospital Intramural Research Award
1992-1995 National Institutes of Health-Regular Research Grant (R01)
1989-1991 American Heart Association, Chicago-Heart Affiliate Grant-In-Aid
1989 Northwestern Memorial Hospital Intramural Research Award
1988 Northwestern University Junior Faculty Research Award
1986 Alberta Heritage Foundation for Medical Research Scholar and Establishment Grant
1985 Alberta Heritage Foundation for Medical Research Fellowship
1984 Alberta Heritage Foundation for Medical Research Fellowship
1984 Canadian Heart Foundation Fellowship
1983 Canadian Heart Foundation Fellowship
1981 Canadian Heart Foundation Fellowship
1977 University of Alberta Honor Prize
1974 University of Calgary Honor Prize
1973 University of Calgary Honor Prize
1972 City of Calgary Scholarship
1972 Queen Elizabeth Scholarship (Honor Prize)
Education
Medical Degree

University of Alberta, Edmonton, Alberta

Residency

Dalhousie University

Fellowship

University of Iowa Hospitals and Clinics
Publications
Board Certifications
Licentiate, Medical Council of Canada
National Boards Examinations
Royal College of Physicians of Canada – Internal Medicine
American Board of Internal Medicine
Royal College of Physicians of Canada – Cardiology
American Board of Internal Medicine – Cardiology