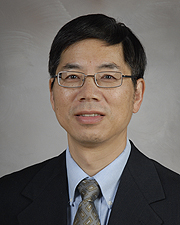 Associate Professor, Medical Genetics
Education
Master of Science

Institute of Microbiology, Chinese Academy of Science, Beijing, China

Doctor of Philosophy

Institute of Microbiology, Chinese Academy of Science, Beijing, China
Areas of Interest
Research Interests
Genetic Basis of Vascular Disease, including thoracic aortic aneurysms aortic dissections.
Genetic Basis of other human disease, including traveler diarrhea and molar oligodontia, and medical treatment for cocaine dependence.
Thoracic aortic aneurysm and dissection (TAAD) is a life-threatening disease that results in nearly 15,000 deaths annually. Prevention of untimely death from TAAD depends on the early identification of individuals predisposed to having TAAD, careful monitoring of the size of the aorta, and timely surgical repair of diseased segments. The identification of the genetic contribution to TAAD will allow for an early diagnosis of individuals at risk and prevent the premature deaths of these individuals. This study also will provide the information necessary for defining the molecular mechanisms of genetic factors that contribute to the pathogenesis of TAAD. Familial aggregation studies have indicated that up to 20% of patients have family history of this disease.
Focus of our research includes: (1) recruiting and characterizing families with multiple members with vascular disease, and then, using positional cloning, candidate gene sequencing, and exome sequencing approaches to identify the causative mutation for familial TAAD, (2) single nucleotide polymorphism (SNP) based case-control association study to identify the genetic contribution and genetic and environmental interaction to the pathogenesis of non-familial TAAD.
Publications