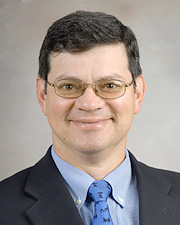 Professor, Cardiovascular Medicine
Biography
Dr. Martin received his undergraduate degree in Genetics from the Lomonosov Moscow State University, Russia in 1989 and his PhD in Molecular Biology from the Institute of Molecular Genetics of the Russian Academy of Sciences in 1993. After a postdoctoral fellowship at the Department of Internal Medicine/Hematology, Weill College of Medicine of Cornell University in New York, Dr. Martin was recruited in 1998 to UT-HSC in Houston as an Instructor at the Department of Integrative Biology. Between 2005 and 2010 he was appointed as Assistant Professor at the Department of Integrative Biology and the Brown Institute of Molecular Medicine. In 2010, Dr. Martin moved to the Department of Internal Medicine/Cardiology and in 2011 he was promoted to Associate Professor. He has since been promoted to Professor in 2019.
The research efforts in Dr. Martin's laboratory are directed toward understanding the biology of nitric oxide signaling. Current studies are focused on understanding the molecular mechanisms of biochemical regulation of soluble guanylyl cyclase, the receptor for nitric oxide, in vasculature. The main scope of these studies is to devise new or improve the existing approaches of NO-dependent and NO-independent pharmacological regulation of NO/cGMP signaling for therapeutic purposes. His research is supported by grants from National Institutes of Health and American Heart Association.
As an Associate Member at the Graduate School of Biomedical Sciences he mentors summer research students, graduate students and postdoctoral fellows.
Dr. Martin serves as reviewer for scientific journals in the area of biochemistry and pharmacology. Since 2007, he serves as reviewer at basic science study sections for the American Heart Association.
Education
Doctoral Degree

Institute of Molecular Genetics, Russian Academy of Sciences

Master Degree

Moscow State University

Bachelor Degree

Moscow State University
Publications