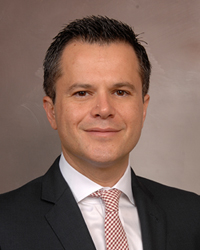 Konstantinos Charitakis, MD, FACC, FSCAI
Associate Professor, Cardiovascular Medicine
Interventional Cardiology
Biography
Dr. Charitakis is an interventional cardiologist with expertise in cardiac angiograms and percutaneous coronary interventions (PCIs). He has a particular interest in performing high risk cardiac procedures, using contemporary imaging modalities, with attention to patient care and excellent long-term outcomes.
Dr. Charitakis moved to the US from Greece in 2004 as a graduate student at Weill Cornell Medical College in New York City. He completed his Internal Medicine Residency in 2010 and in 2014 his fellowships in Cardiovascular Disease and Interventional Cardiology at Cornell-New York Presbyterian Hospital. In 2015 he was recruited at The University of Texas Health Science Center at Houston (UTHealth), and is currently an Associate Professor of Medicine in the Department of Cardiology at McGovern Medical School. Dr. Charitakis also serves as the Co-Medical Director of the Cardiac Care Unit (CCU) at Memorial Hermann Hospital in the Texas Medical Center and as Associate Program Director for the Cardiology Fellowship Program.
He is board-certified in Internal Medicine, Cardiovascular Disease, Nuclear Cardiology, and Interventional Cardiology. Dr. Charitakis has published more than 40 peer reviewed articles, has co-authored several textbooks in the field of cardiology, and serves on national and international cardiology committees. He has received numerous awards for his role as an educator and mentor of medical students and residents, and has a fervent devotion to training the next generation of interventional cardiologists.
Patients value Dr. Charitakis' success in procedures and his affable manner puts them at ease.  He has an undeniable dedication to safety and high quality patient care. Dr. Charitakis offers same day appointments for second opinions and complex cardiac matters in his clinics at UT Professional Building in the Texas Medical Center and at UT Bayshore Multispecialty clinic.
Education
Medical Degree

University of Crete Health Sciences, Heraklion, Greece

Residency

Internal Medicine, New York-Presbyterian Hospital/Weill-Cornell Medical Center, New York, NY

Residency

Internal Medicine, Memorial-Sloan Kettering Cancer Center, New York, NY (Heme-Onc)

Residency

Internal Medicine, Hospital for Special Surgery, New York, NY (Rheumatology)

Fellowship

Cardiovascular Disease, Greenberg Division of Cardiology, New York-Presbyterian Hospital/Weill-Cornell Medical Center, New York, NY

Fellowship

Interventional Cardiology, Greenberg Division of Cardiology, New York-Presbyterian Hospital/Weill-Cornell Medical Center, New York, NY
Publications
Board Certifications
American Board of Internal Medicine
American Board of Internal Medicine Certified in Interventional Cardiology
American Board of Internal Medicine Certified in Cardiovascular Disease