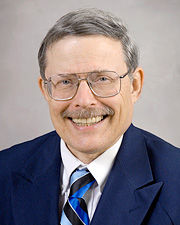 Professor, Cardiovascular Medicine
Biography
Dr. Klegerman received a B.A. in chemistry from the University of Illinois at Chicago in 1968 and a Ph.D. in biochemistry from Loyola University of Chicago in 1984.
For more than 40 years, he has conducted biomedical research focusing on immunochemistry, immunoassay development, and conjugation chemistry. For the past 30 years, Dr. Klegerman has been involved in a collaborative effort with cardiovascular researchers under the direction of Dr. David D. McPherson to develop targeted immunoliposomes for diagnosis and treatment of cardiovascular diseases, joining the group when they moved to UTHealth, where he now is a professor in the Division of Cardiovascular Medicine. As part of this effort, Dr. Klegerman founded two companies to develop the echogenic liposome technology into clinical products.
He is an author of 86 scientific papers, awardee of 10 patents, and co-editor of a textbook of pharmaceutical biotechnology (1992).
Education
Doctoral Degree

Loyola University, Maywood, IL
Publications