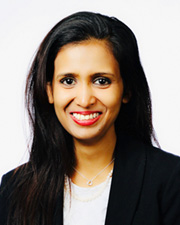 Assistant Professor, Oncology
Biography
Dr. Neha Maithel is originally from California and obtained her undergraduate degree in Biochemistry/Cell Biology at University of California, San Diego. She continued on to earn her medical degree at Temple University School of Medicine followed by residency and fellowship in Hematology/Oncology at State University of New York Downstate.
She is a medical oncologist who cares for people with genitourinary cancers. These include bladder cancer, kidney cancer (renal cell cancer), prostate cancer, testicular cancer (germ cell tumors), colorectal cancer, anal cancer, hepatobiliary, and pancreatic cancer.
She was drawn to the field of oncology because she finds it rewarding to help patients through their life-altering diagnosis. She is dedicated to supporting patients during their difficult time from diagnosis to creating a personalized treatment plan, which may include hormone therapy, immunotherapy, targeted therapy or chemotherapy. She finds it incredibly rewarding to get to know patients and their family, to understand their individual needs and preferences, and to address their medical, social, and emotional concerns.
Dr. Maithel sees patients at Memorial Hermann at TMC, where we offer compassionate, state-of-the art cancer treatment. We work in an interdisciplinary team including medical oncologist, surgeons, radiation oncologist, and other specialist to provide the best possible care whether its through standard of care or from ongoing clinical trials.
Outside of work, She enjoys spending time with family and traveling. She also enjoy daily yoga and meditation as well a relaxing round of golf!