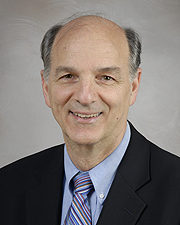 Robert F. Lodato, MD, PhD FCCP
Biography
Robert Lodato was born and raised in Evansville, Indiana.  He received his M.D. degree from Johns Hopkins University.  There he also received a Ph.D. in biomedical engineering.  After his internship and residency in internal medicine at Indiana University, he returned to Johns Hopkins for his fellowship in pulmonary and critical care medicine.  In 1985 he joined the faculty of the University of Texas Health Science Center at Houston in the Division of Pulmonary, Critical Care, and Sleep Medicine.  There he served for several years as Medical Director of the Medical Intensive Care Unit at Memorial Hermann Hospital in the Texas Medical Center.  He has been triple board certified in internal medicine, pulmonary disease, and critical care medicine, and he is a Fellow of the American College of Chest Physicians.  He cares for patients with a full spectrum of disorders in pulmonary and critical care medicine.
For several years, Best Doctors in America has included him in the list of the country's most outstanding physicians.  His teaching ability has been recognized both locally and abroad.  He has received the Dean's Teaching Excellence Award at the University of Texas and has been invited to give lectures and to do bedside teaching rounds at a number of institutions throughout North America, Europe, the Middle East, and Asia.  He has served as a Special Medical Consultant for the Sultanate of Oman, in Muscat.
His primary research interests are sepsis and acute respiratory failure.  His lab was the first to show that nitric oxide is a major mediator of the vasorelaxation and hypotension of septic shock.  This finding led to a patent for him and his colleagues.  His published work on the "waterfall model" of the lung has provided novel insight into the pathophysiology of severe obstructive lung disease.  Dr. Lodato's research has also extended to collaborations with NASA on the effects of space flight on the circulation and included the studies of Astronaut and U.S. Senator John Glenn for his "Return to Space" Mission in 1998.  He has published numerous papers, editorials, and book chapters in pulmonary and critical care medicine, particularly in the areas of sepsis and respiratory and circulatory failure.  In addition, he has served 5 years as a member of the Editorial Board of the American Journal of Respiratory and Critical Care Medicine.
Education
Medical Degree

Johns Hopkins University School of Medicine, Baltimore, MD

Doctor of Philosophy

Johns Hopkins University School of Medicine, Baltimore, MD

Residency

Indiana University Medical Center, Indianapolis, IN

Fellowship

Pulmonary Disease, Johns Hopkins University School of Medicine, Baltimore, MD

Fellowship

Dept. of Anesthesiology & Critical Care Medicine, Johns Hopkins University School of Medicine, Baltimore, MD
Areas of Interest
Clinical Interests
Pulmonary physiology
Pathophysiologic basis of disease
Research Interests
Sepsis
Acute respiratory distress syndrome (ARDS)
Publications
Board Certifications
American Board of Internal Medicine – Internal Medicine
American Board of Internal Medicine – Pulmonary Disease