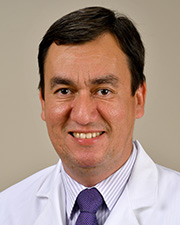 Robier A. Aguillon Prada, MD
Assistant Professor, Critical Care Medicine
Biography
Robier Aguillon Prada MD received his medical degree from the Universidad Industrial de Santander in Colombia. He then proceeded with a Post-Doctoral Research Fellowship at The University of California San Diego. He completed his internal medicine residency at the University of Miami / Jackson Memorial Hospital. Subsequently Dr Aguillon Prada trained in Nephrology at Duke University followed by a Critical Care Medicine Fellowship at The Cleveland Clinic, where he was Faculty for 6 years as well as Medical Director of the MICU at the Cleveland Clinic-Hillcrest Hospital. In 2021, he joined the Faculty at McGovern Medical School at UTHealth. He currently serves as one of the MICU Medical directors at Memorial Hermann-TMC.
His areas of interest are Respiratory Failure, Renal disorders in the critical care patient and improvement of the quality of care and processes in the ICUs.
He enjoys spending time with his family, watching sports, reading and traveling.
Education
Medical Degree

Universidad Industrial de Santander, Bucaramanga, Colombia

Research Fellowship

University of California San Diego

Residency

University of Miami / Jackson Memorial Hospital, Miami, FL

Nephrology Fellowship

Duke University, Durham, NC

Critical Care Fellowship

Cleveland Clinic, Cleveland, OH

Master of Applied Science in Patient Safety and Healthcare Quality

Johns Hopkins University. Bloomberg School of Public Health
Areas of Interest
Clinical Interests
Acute Respiratory Failure
Acid – Base, Electrolyte and Renal Disorders in the critically ill patient
Health Care Quality and Process Improvement in ICU
Publications
Cremer PC, Abbate A, Hudock K, McWilliams C, Mehta J, Chang SY, Sheng CC, Van Tassell B, Bonaventura A, Vecchié A, Carey B, Wang Q, Wolski KE, Rajendram P, Duggal A, Prada RA, Wang TS, Paolini JF, Trapnell BC; MASH-COVID study group Mavrilimumab in patients with severe COVID-19 pneumonia and systemic hyperinflammation (MASH-COVID): an investigator initiated, multicentre, double-blind, randomised, placebo-controlled trial. Lancet Rheumatol. 2021 Jun;3(6):e410-e418.
Murphy RC, Ying L, Nolin J, Aguillon Prada R, Chakrabarti A, Novotny MVm Seeds M, Alteimeier WA, Gelb MH, Hite RD, Hallstrand TS. Exercise Induced Alterations in Phospholipid Hydrolysis, Airway Surfactant and Eicosanoids and their role in Asthma. American Journal of Physiology.
Sheng CC, Sahoo D, Dugar S, Prada RA, Wang TKM, Abou Hassan OK, Brennan D, Culver DA, Rajendram P, Duggal A, Lincoff AM, Nissen SE, Menon V, Cremer PC.
Canakinumab to reduce deterioration of cardiac and respiratory function in SARS-CoV-2 associated myocardial injury with heightened inflammation (canakinumab in Covid-19 cardiac injury: The three C study). Clin Cardiol. 2020 Oct;43(10):1055-1063. doi: 10.1002/clc.23451
Urquiza M, Melo-Cardenas J, Aguillon R, Kipps TJ, Castro JE. Intratumoral Injection of Ad-ISF35 Breaks Tolerance and Induces Lymphoma Tumor Regression. Hum Gene Ther. 2015 Jan 26(1):14-25 8.
Merscher jGomez S, Guzman J, Lehto M, Aguillon-Prada R, Mendez A, Lassenius M, Forsblom C, Yoo T, Pedigo C, Villareal R, Maiguel D, Johnson K, Goldberg R, Nair V, Randolph A, Kretzler M, Nelson R, Burke GW, Groop PH, Fornoni A. Cyclodextrin protects podocytes in Diabetic Kidney Disease. Diabetes. 62(11):3817-27. Nov 2013
Faul C, Amaral AP, Oskouei B, Hu MC, Sloan A, Isakova T, Gutiérrez OM, Aguillon-Prada R, Lincoln J, Hare JM, Mundel P, Morales A, Scialla J, Fischer M, Soliman EZ, Chen J, Go AS, Rosas SE, Nessel L, Townsend RR, Feldman HI, St John Sutton M, Ojo A, Gadegbeku C, Di Marco GS, Reuter S, Kentrup D, Tiemann K, Brand M, Hill JA, Moe OW, Kuro-O M, Kusek JW, Keane MG, Wolf M. Fibroblast Growth Factor 23 Induces Left Ventricular Hypertrophy. J Clin Invest. 121(11):4393-408. Nov 2011.
Fornoni A, Sagheshima J, Wei C, Merscher-Gomez S, Aguillon-Prada R, Jauregui A, Li J, Mattiazzi A, Ciancio G, Chen L, Zilleruelo G, Abitbol C, Chandar J, Seeherunvong W, Ricordi C, Ikehata M, Rastaldi M, Mundel P, Reiser J, Burke GW. Rituximab targets podocytes in recurrent focal segmental glomerulosclerosis. Science Translational Research. 3(85):85-89. Jun 2011
Wierda WG, Castro JE, Aguillon RA, Sampath D, Jalayer A, McMannis J, Prussak CE, Keating M, Kipps TJ. Phase I Study of Immune Gene Therapy for Patients with CLL Using a Membrane-Stable, Humanized CD154. Leukemia; 24(11):1893-900 Nov 2010.
Castro JE, Prada CE, Aguillon RA, Kitada S, Fukuda T, Motta M, Wu C, Dicker F, Sun G, Wang YJ, Carson DA, Reed JC, Kipps TJ. Thymidine-Phosphorothioate Oligonucleotides Induce Activation and Apoptosis of CLL Cells Independently of CpG Motifs or BCL-2 Gene Interference. Leukemia.; 20(4): 680-8. Apr 2006.