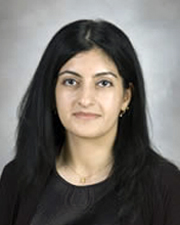 Ruckshanda Majid, MBBS DABSM FCCP
Associate Professor
Director, Sleep Medicine Adult Fellowship Program
Co-Medical Director, Memorial Hermann Sleep Center
Co-Director, Harris Health Systems Sleep Disorders Center
Faculty Senator
Sleep Medicine
Pulmonary Medicine
Critical Care Medicine
Biography
"A good physician treats the disease. A great physician treats the 'patient' who has the disease….."

William Osler
Dr. Ruckshanda Majid received her medical degree from the Aga Khan University in 1998. She completed her internship and residency training in Internal Medicine at UTHealth, McGovern Medical School, University of Texas, Health Sciences Center at Houston in 2004. She subsequently went on to pursue fellowship training in Pulmonary and Critical Care (2005-2008) at the same institution with an additional one year specialization training in Sleep Medicine. She is board certified in Internal Medicine, Pulmonary Medicine, Critical Care and Sleep Medicine. In 2009, she joined the faculty as an Division of Pulmonary, Critical Care and Sleep Medicine and soon after joining, she was appointed Program Director for the Sleep Medicine Fellowship and has developed the curriculum and educational program for the training program for the Pulmonary and the Sleep fellows. During her first two years as faculty, she completed a two-year program in the Masters of Clinical Science course from which she graduated with several honors.
She serves as the Associate Medical Director of the Memorial Hermann Sleep Center, the Co-Director of the Harris Health Systems Sleep Disorders Center (2009-2018) and is a member and fellow of the American College of Chest Physicians (ACCP) and the American Academy of Sleep Medicine (AASM). She most recently was elected as President of the Southern Sleep Society (2017-2019), a Sleep organization which just celebrated its 50th anniversary.  She is the recipient of 'Dean's Teaching Excellence Award', voted the 'Best Teaching Faculty' in 2011 and 2013 by Pulmonary/CC fellows and was inducted in the Alpha Omega Alpha (AOA) Honors society in 2017. She has consistently been voted as Best Physician in her specialty the last five years in a row in the Houstonia magazine.
Dr. Majid's clinical interests and practice include complex Pediatric and Adult sleep disorders (especially during pregnancy), adult pulmonary medicine and the management of critical care issues especially quality improvement initiatives to improve sleep in the ICU.  She is the author of a book chapter on Complex Sleep Apnea and Sleep Disordered Breathing in patients with advanced heart failure.
In her spare time, she enjoys cooking, hiking, and family time. In Dr. Majid's own words, "The biggest pleasure I have in my life (other than my work) is my family!"
Education
Medical Degree

Aga Khan Medical School

Residency

Internal Medicine, The University of Texas Health Science Center at Houston, Houston, TX

Fellowship

Pulmonary and Critical Care Medicine, The University of Texas Health Science Center at Houston, Houston, TX

Fellowship

Sleep Medicine, The University of Texas Health Science Center at Houston, Houston, TX
Areas of Interest
Clinical Interests
Pediatric and adult sleep disorders
Obesity hypoventilation syndrome
Pulmonary, critical care and sleep issues during pregnancy
Sleep disordered breathing in heart failure and complex sleep apnea
Research Interests
Improvement in sleep in the intensive care unit
Prediction models for the diagnosis of sleep apnea in children
Adult and pediatric obstructive sleep apnea (OSA), including its association with cardiovascular disease
Publications
Board Certifications
American Board of Internal Medicine – Internal Medicine
American Board of Internal Medicine – Pulmonary Medicine
American Board of Internal Medicine – Critical Care Medicine
American Board of Internal Medicine – Sleep Medicine
Undersea & Hyperbaric Medical Society