UTHealth Mobile Health Clinic

The mobile health clinic of the Department of Internal Medicine at McGovern Medical School at UTHealth has been serving the medical needs of children and adults in the lower Rio Grande Valley along the Texas-Mexico border, since 1998. The mission is to offer no-cost medical consultations, basic health services, and patient education to medically underserved people. Any patient identified as having a chronic disease is treated and provided with assistance for long-term management.
---
Services offered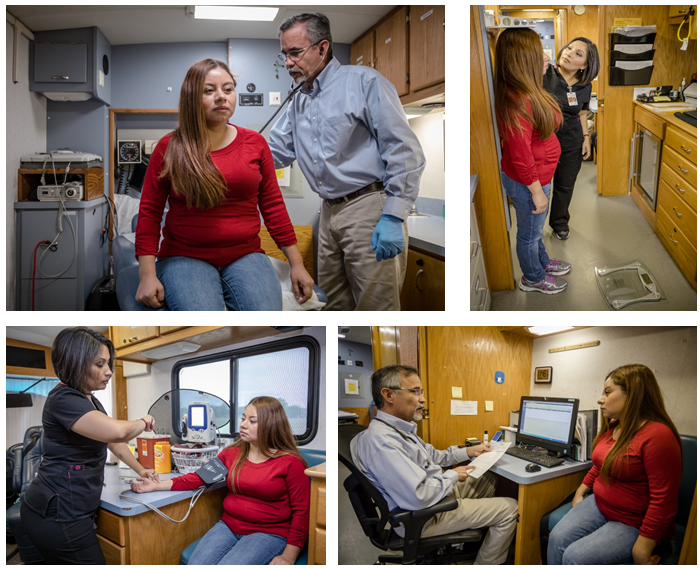 Free Consultations for minor illnesses and injuries, help and education on nutrition, physical activity, and cancer prevention, management of chronic illnesses such as diabetes, hypertension, hypercholesterolemia, thyroid, etc. For cases that require further expertise, the clinic refers to local clinics and hospitals. Specialists in Houston available via telemedicine.
Primary Care services:
Chronic Conditions, such as Diabetes Mellitus, Hypertension, Thyroid, Hypercholesterolemia Management, etc.
Acute conditions that include: Upper Respiratory Conditions
Allergies
Cold and Coughs
Flu (flu test when available)
Sinus infection
Sore throat and Strep throat ( strep test when available)
Asthma
Bronchitis
Head, Ear, Eye, and Skin Conditions
Minor Headaches
Ear infections
Eye irritation and redness
Minor skin rashes and infections
Removal of stiches
Digestive and Urinary Conditions:
Abdominal pain
Constipation
Nausea
Vomiting
Bladder & Kidney Infection
Musculoskeletal:
Muscle strains
Joint sprains
Preventative Services:
WWE Exams, Includes a breast examination, a pelvic examination and a pap smear
Well Child Exams (Include Immunizations )
Immunizations(Provided by Texas Vaccines for Children (TVFC) program provides no cost vaccines to eligible children from birth through 18 years of age who meet one or more of the following criteria: enrolled in the Medicaid program, enrolled CHIP, is an American Indian or Alaska Native (As defined by 25 U.S.C. 1603), Uninsured Children: Children who do not have health insurance, Underinsured Children: Children with private insurance but where coverage may not include vaccines or only includes select vaccines) MUST BRING CURRENT VACCINE RECORD!
TB Testing (when available)
Fasting Screening, test includes Total Cholesterol and Glucose levels (when available)
Blood Pressure checks
Sports physical, Employment physical, School/Program Entrance physicals
Additional services include:
Colposcopy
Echo and EKG services available
Referrals to low cost laboratory given, Referrals for mammograms, Referrals to radiology services when needed.
Referrals to Diabetes Management Programs
Assistance in applying for Patient Assistant Programs sponsored by pharmaceutical companies for underinsured patients needing medications.
(Applicant may need to provide proof of income, letter of support, proof of residency, date of birth, social security or other information required by the pharmaceutical company)
Please bring any labs recently done, list of current medications, most recent vaccine record.
Appointments are preferred, please call 956-330-5014 to schedule an appointment.
---
Eligible patients
Any person of any age who does not have health insurance or a primary care physician can be seen. Patient's with insurance or who are currently enrolled in Federally Qualified Health Center (FQHC), State Clinic, etc. are encouraged to see PCP when possible. Any questions regarding patient eligibility can be directed to mobile clinic staff at 956-330-5014.
---
Clinic Staff
Paul A. Toscano, P.A.- C
Lori Campos, FNP-C,
Flor Valdez (Medical Assistant)
Brenda Sanchez (Medical Assistant)
---
Mobile clinic service locations and hours (download flyer)
Staff: Paul Toscano and Flor Valdez; Phone: 956-330-5014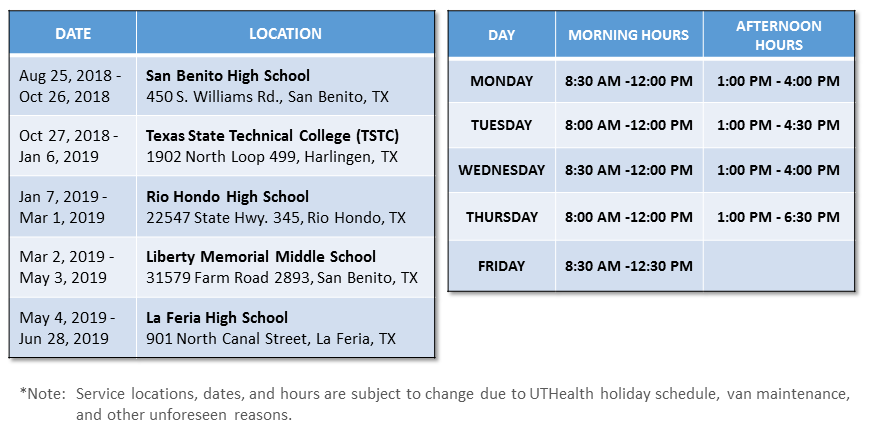 ---
Clinic service (non-mobile) locations and hours (download flyer)
Staff: Lori Campos and Brenda Sanchez; Phone: 956-551-4711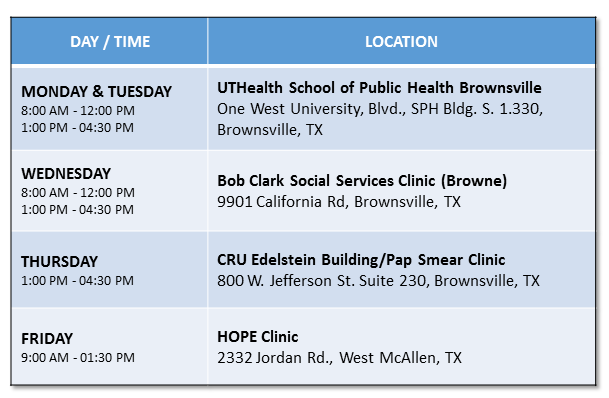 ---
More news about the mobile clinic: