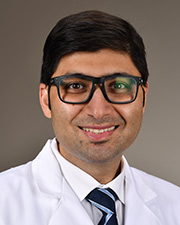 Assistant Professor, Division of Pulmonary, Critical Care and Sleep Medicine | Clinics for Sarcoidosis
Education
Medical School, M.D.

IM Sechenov, First Moscow State Medical University, Moscow, Russia

Post-Doc, Vascular Biology

John Hopkins Medicine, Baltimore, Maryland

Residency, Internal Medicine

Icahn School of Medicine, Mount Sinai, New York

Postgraduate Training, Pulmonary- Critical Care Medicine

John Hopkins Medicine, Baltimore, Maryland

Assistant Professor, Pulmonary- Critical Care- Sleep Medicine

The McGovern Medical School at UTHealth Houston
Areas of Interest
Clinical Interests
Gautam Sikka is an Assistant Professor in medicine at McGovern Medical School at UTHealth Houston and has completed his training in fields of Internal Medicine, Critical-care Medicine, and Pulmonary Medicine. While perusing Pulmonary and Intensive care training at Johns Hopkins Medicine in Baltimore-Maryland, he spent additional time learning about pathophysiology of sarcoidosis and applied his training in patient care at the Johns Hopkins sarcoidosis clinics.
After completing training, he joined as faculty at the Department of Pulmonary, Critical Care and Sleep medicine at University of Texas Health Science Center at Houston with a focus to be part of the Clinics of Sarcoidosis and build a multi-disciplinary team around the patients who live with sarcoidosis.
---
Research Interests
Dr. Sikka's research interests include, studying pulmonary diseases, especially the role of opsin biology in pulmonary vascular diseases, such as pulmonary hypertension (PH), a disease with unacceptably high mortality and morbidity. PH which is seen in some patients with sarcoidosis, is characterized by impaired pulmonary vascular dilation and dysregulation of cell death and turnover, leading to extreme vascular remodeling. His research and clinical interests are aligned, allowing him to bring questions that arise in the clinic or hospital, back to the bench. Having serendipitously discovered photoreceptors in blood vessels, he studied these novel physiologic pathways and their relevance in health and disease. In the last few years, his focus on these pathways helped identify the photoreceptor subtypes (opsins) expressed in pulmonary arteries and elucidate that these opsins mediate wavelength-specific (blue light), light- dependent vascular responses
Research Information
Dr. Sikka studied leptin signaling in small vessel regulation and its role in maintaining normal vascular compliance. Using in vivo and ex vivo experiments, we demonstrated that leptin plays a vital role in preserving normal vascular compliance, independent of its effects on body mass and that it reverses Hyperlipidemia and Vascular Dysfunction in mice exposed to intermittent hypoxia.
Sikka G, Yang R, Reid S, Benjo A, Koitabashi N, Camara A, et al. Leptin is essential in maintaining normal vascular compliance independent of body weight. Int J Obes. 2010;34(1):203.
Yang R*, Sikka G*, Larson J, Watts VL, Niu X, Ellis CL, et al. Restoring leptin signaling reduces hyperlipidemia and improves vascular stiffness induced by chronic intermittent hypoxia. Am J Physiol – Heart Circ Physiol. 2011 Apr;300(4):H1467–76. (* indicates co-first author)
Along with Asif Mustafa, Dan Berkowitz and Solomon Snyder, he evaluated the properties of endogenous hydrogen sulfide as an endothelial-derived hyperpolarization factor, which mediates its effects via a novel, redox-sensitive, post- translational modification called sulfhydration. This work has been well cited by others (~500 citations). During this time, He developed charge dye imaging protocols to estimate changes in membrane potential in the vessels. While exploring the role of hydrogen sulfide in septic shock, he also discovered that interleukin-10 knockout mice, a model of frailty, not only are prone to sepsis due to lack of immune response, but also develop cardiac and vascular dysfunction with increased ageing due to increased production of eicosanoids, specifically via COX-2 activity and resultant thromboxane A2 receptor activation.
Sikka G, Mustafa AK, et al. Hydrogen sulfide as endothelium-derived hyperpolarizing factor sulfhydrates potassium channels. Circ Res. 2011 Nov 11;109(11):1259–68.
Sikka G, Steppan J, McNelis D et al. P68 Role of endothelial H2S in the pathogenesis of hypertension in spontaneously hypertensive (SHR) rats. Nitric Oxide [Abstract]. 2012 Sep 15;27:S41.
Sikka G, Miller KL, Steppan J, Pandey D, Jung SM, Fraser CD, et al. Interleukin 10 knockout frail mice develop cardiac and vascular dysfunction with increased age. Exp Gerontol. 2013;48(2):128–35.
While in internal medicine training, he was also involved in a non-randomized study to examine a novel route of drug delivery, iontophoresis, in individuals with spinal cord injury and presented his clinical work at international conferences.
Korsten MA, Lyons BL, Radulovic M, Cummings TM, Sikka G, Singh K, et al. Delivery of neostigmine and glycopyrrolate by iontophoresis: a nonrandomized study in individuals with spinal cord injury. Spinal Cord. 2018;56(3):212.
Sikka G, Khan Z, Bachan M. Digital blood pressure monitor windfalls and pitfalls a case of systolic blood pressure> 300 mmHg [Abstract]. Critical Care Medicine. 2016;44(12):489.
Having serendipitously discovered "photorelaxation", the light-dependent relaxation of blood vessels, he began to study its mechanism and found that this wavelength-specific, blue-light activated molecular switch was composed of non-image forming opsins (photoreceptors) that appeared to involve the generation of cGMP to activate a K+ channel, causing hyperpolarization and relaxation. These responses were observed in both systemic and pulmonary blood vessels.
Sikka G, Hussmann GP, Pandey D, Cao S, Hori D, Park JT, et al. Melanopsin mediates light-dependent relaxation in blood vessels. Proc Natl Acad Sci. 2014;111(50):17977–82.
Barreto Ortiz S, Hori D, Sikka G, et al. Opsin 3 and 4 mediate light-induced pulmonary vasorelaxation that is potentiated by G protein-coupled receptor kinase 2 inhibition. Am J Physiol-Lung Cell Mol Physiol. 2017;314(1):L93–106.
During Pulmonary and Critical Care training at Johns Hopkins University, he began exploring the mechanisms involved in the pathogenesis of pulmonary hypertension (PH). Along with Dr. Shimoda, he wrote invited review article on role of hypoxia-inducible factors in pulmonary hypertension. He elected to test the hypothesis that photoreceptors play a role in regulating apoptosis, particularly in smooth muscle cells in the context of PH; work was funded by National Institute of Health (NIH)
Shimoda LA, Yun X and Sikka G. Revisiting the role of hypoxia-inducible factors in pulmonary hypertension. Current Opinion in Physiology (Accepted for print; November 2018).
Vickram Tejwani, Xin Yun, Gautam Sikka, Larissa Shimoda, and Karthik Suresh. Airway Epithelial Genomic Signatures in Steroid-Resistant COPD; Role for SMAD3 in Vascular Remodeling in Pulmonary Hypertension; Regulation of Lung Endothelial Cell Function by VEGFR3; AM J Respir Cell Mol Biol. 2019 Sep;61(3):392-394.
Sikka G, Yun X, Tejwani V, D'Alessio FR, Damarla M, Huetsch J, Berkowitz DE, Shimoda LA; Non-visual opsins mediate light-dependent apoptosis of pulmonary arterial smooth muscle cells in a rat model of pulmonary arterial hypertension. ATS International Conference, 2019.
Complete List of Published Work in My Bibliography:
https://www.ncbi.nlm.nih.gov/pubmed/?term=gautam+sikka
https://scholar.google.com/citations?user=7jadNGoAAAAJ&hl=en&oi=ao
Research Support
Completed:
Ruth L. Kirschstein Postdoctoral Individual National Research Service Award (F32)
Principle Investigator: Gautam Sikka, MD Type: F32HL149163-01
Role: Principal Investigator
Agency: NIH
"Multidisciplinary Training Program in Lung Disease"
Principle Investigator: Robert Wise, MD and Larissa Shimoda, PhD Type: T32HL007534-36
Role: Trainee
Agency: NIH
"Cystathionine Gamma Lyase: A Target for Septic Shock"
Principle Investigator: Gautam Sikka, MD Agency: American Heart Association
Type: 10POST4010028. Period: July 1, 2010 to June 30, 2012
Publications
Honors
2019 Ruth L. Kirschstein National Research Service Award (NRSA) National Institute of Health 2019 Fellow Boot Camp 1000$ Travel Award, American Thoracic Society
2018 Young Investigator Award, 7th Annual Mid-Atlantic Pulmonary Hypertension Symposium 2017 Resident Boot Camp 500$ Travel Award; American Thoracic Society
2016 First Prize Original Research, NCBH Resident Research Day
2016 First Place Winner, First Annual PAGNY Research Day, NY
2016 Fourth Prize Case Report 13th Annual Doctors' Recognition Day Symposium, NY
2016 First Prize Original Research, 13th Annual Doctors' Recognition Day Symposium, NY
2015 First Prize, Case Report, 5th Annual Dr. Milford Fulop Competition, Jacobi Med. Center, NY 2014 First Prize DOM Annual Research Retreat, Johns Hopkins University
2011 Gold Medal, 13th Annual Research Day, ACCM, Johns Hopkins University
2010-2012 American Heart Association Postdoctoral Grant
2009 Silver Medal, 11th Annual Research Day, ACCM, Johns Hopkins University
2009 Pat Simons Travel Award, Research Excellence by Young Investigator; Obesity Society 2009 The Postdoctoral Basic Research Fellow Award; Johns Hopkins University
2002 Student Excellence Award, Histology, Cytology & Embryology, Moscow Medical Academy
Contributions to Science