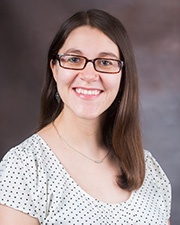 Assistant Professor, Geriatric and Palliative Medicine
Biography
"Do not regret growing older. It is a privilege denied to many." -Unknown
Dr. Julia Hiner has loved taking care of older adults since her medical school years. Subsequently, that love has grown into her career's passion. She believes patient care should not just be about disease management, but rather comprehensive care for the whole person with an emphasis on building meaningful relationships between healthcare professionals, patients, and their families. She enjoys getting to know her patients as individuals through their life stories and experiences.
She especially enjoys taking care of vulnerable populations, dedicating her time to adults who have been mistreated, neglected, and exploited. She partners with the Forensic Assessment Center Network and the Senior Justice Assessment Center, as well as providing Geriatric, Palliative, and Primary Care medicine to those in home-based, clinic, and hospital settings.
She serves as the course director for both the Older Adult Mistreatment rotation and the Bridge Home-Based Primary Care rotation for Geriatric Medicine and Palliative Medicine fellows. Additionally, she participates in creating educational opportunities for medical learners at all stages, through direct "bedside" teaching, but also lecture, module, and curriculum creation.
When she is not at work, Dr. Hiner likes spending time with her husband, two daughters, dogs, and extended family. She also enjoys reading fiction books, writing narrative reflections about her experiences in medicine and as a physician, and cheering on the Green Bay Packers.
Education
Medical Degree

University of Texas Medical Branch, Galveston, TX

Residency

Internal Medicine, Christiana Care Health System, Newark, DE

Fellowship

Geriatric Medicine, Baylor College of Medicine, Houston, TX
Areas of Interest
Clinical Interests
Older Adult Mistreatment
Incapacity and Incompetency
Medical Education Curriculum & Learning Materials Creation
Home-Based Healthcare
Publications
Publication Information
Hiner, J.A., Murdock, C.C., Lee, J.L., and Halphen, J.M. A Training Curriculum for Assessing Adult Capacity and Mistreatment. TEACH-S 2020 Abstract Book. 1(1): 66, 2020.
Dyer, C.B., Murdock, C., Hiner, J., Halphen, J., and Burnett, J. Elder Mistreatment Intervention: Strategies for Connecting with Diverse and Rural Populations. Generations. 44(1):91-97, 2020.
Halphen, J.M., Dyer, C.B., Lee, J.L., Reyes-Ortiz, C.A., Murdock, C.C., Hiner, J.A., and Burnett, J. Capacity evaluations for adult protective services: videoconference or in-person interviews. Journal of Elder Abuse & Neglect. 32(2):121-133, 2020.
Board Certifications
Geriatric Medicine (2020)
Internal Medicine (2019)