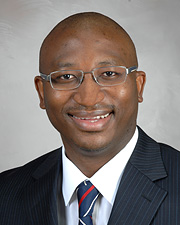 Assistant Professor of Medicine | Medical Director of Memorial Hermann Hospital - Cypress
Pulmonary Medicine
Critical Care Medicine
Pascal L. Kingah, MD MPH
713-500-7955 Division
713-486-5600 Greens Pulmonary Clinic
713-486-7200 Heights Pulmonary Clinic
713-500-6829 Fax
Mill Aller
713-500-6828 Assistant

Biography
"They may forget your name, but they will never forget how you make them feel. – Maya Angelou"
Dr. Kingah is an Assistant Professor of Medicine in the Department of Internal Medicine, Divisions of Critical Care and Pulmonary Medicine, at McGovern Medical School at The University of Texas Health Science Center at Houston. He is an active member of the American College of Chest Physicians and Secretary/Treasurer of the Harris County Medical Society North Branch. He is board certified in Internal Medicine, Pulmonary Disease, and Critical Care Medicine.
Heavily invested in community outreach, Dr. Kingah seeks to improve current asthma management and institute smoking cessation strategies. His special clinical interests include interstitial lung disease, specifically sarcoidosis and pulmonary fibrosis. He has contributed to several publications in which he was first author.
Born in Cameroon, West Africa, he is fluent in English and French with limited Spanish proficiency. In his spare time, he enjoys sports and fishing.
Education
Medical School

University of Yaounde, Cameroon

Graduate School

UTHealth School of Public Health, Houston, TX

Residency

Oakwood Hospital and Medical Center (Beaumont Hospital) , Dearborn, MI

Fellowship

Pulmonary & Critical Care Medicine, Wayne State University School of Medicine, Detroit, MI
Areas of Interests
Clinical Interests
Asthma
Acute respiratory distress syndrome (ARDS)
Chronic obstructive pulmonary disease (COPD)
Interstitial lung disease
Sarcoidosis
---
Research Interests
Acute respiratory distress syndrome (ARDS)
Sarcoidosis
Pulmonary fibrosis
Publications
Publication Information
Kingah P, Alam M, Chugh K, Kamholz J, Samavati L. Role of Pulmonary Evaluation in Diagnosis of Neurosarcoidosis. Sarcoidosis Vasc Diffuse Lung Dis. 2016 Oct 7;3(3):209-215
Grady K, Gowda S, Kingah P, Soubani AO. Coil Embolization of Pulmonary Arteries as a Palliative Treatment of Diffuse Type 1 Hepatopulmonary syndrome. Respir. Care 2015;60(2):1
Kingah PL, Muma G, Soubani A."Azithromycin improves lung function in patients with post lung transplant bronchiolitis obliterans syndrome: A meta-analysis" Clinical Transplant 2014 Aug: 28(8);906-10
Soubani AO, Kingah P, Alshabani K, Muma G, Haq A. "Lung transplantation following hematopoietic stem cell transplantation: report of two cases and systematic review of literature" Clinical Transplant 2014 Jul: 28(7):776-82
Kingah PL, Alam A, Chugh K, Ramya R, Samavati L. American Thoracic Society conference 2014 poster presentation, "Diagnosis of Neurosarcoidosis via pulmonary evaluation and lymph node biopsy"
Luu HN, Kingah PL, North K, Boerwinkle E, Volcik KA. "Interaction of folate and the paraoxonase Q192R polymorphism with risk of incident coronary heart disease and ischemic stroke: the ARIC study" Ann Epidemiol. 2011 Nov:21(11):815-23
Kingah PL, Luu HN, Volcik KA, Morrison AC, Nettleton JA, Boerwinkle E. "Association of NOS3 Glu298Asp SNP with hypertension and possible effect modification of dietary fat intake in the ARIC study" Hypertension Research, 2010:33; 165-169
Kingah PL, "Maternal factors, fetal parameters and the risk of shoulder dystocia" (January 1, 2008). ETD collection for Houston Academy of Medicine-Texas Medical Center. Paper AAI1454672
Board Certifications
American Board of Internal Medicine – Pulmonary Medicine
American Board of Internal Medicine – Critical Care Medicine
American Board of Internal Medicine – Internal Medicine