Opioid Epidemic
Opioid Epidemic in Houston: Illicit substance use is on the rise with over 20 million Americans with alcohol and drug use disorders and over 2.1 million with an Opioid Use Disorder (SAMHSA, 2020). The opioid epidemic has increasingly become a widespread public health concern, and has been declared a public health emergency.
This trend continues to impact every segment of society, and opioid-related deaths are often under-represented in official statistics.
What we do know from 2020:
Naloxone (Narcan®) was administered for suspected opioid overdose 1,238 times by Emergency Medical Services (EMS) in the Houston area
Approximately 490 opioid-related deaths occurred in Houston, with nearly 2000 across the entire state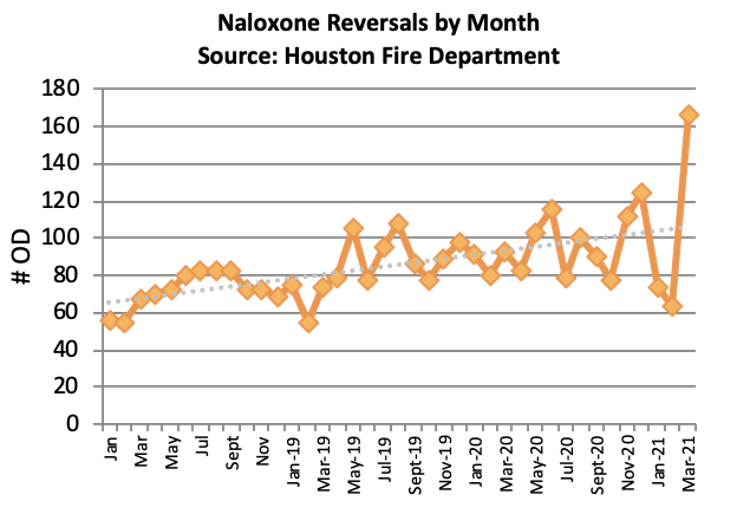 Access to Care: Despite the large amount of people with substance use disorder, only a small percentage receive treatment.
80% of people with Opioid Use Disorder are untreated
Current treatment is often fragmented and reactive, waiting for patients to seek and navigate treatment on their own. When individuals do seek out treatment, they are often faced with long waitlists and the inability to pay for services, with a high percentage of individuals in Texas considered uninsurable for state insurance coverage. Novel mechanisms to identify and provide outreach services to at-risk individuals following overdose (OD) are essential for harm reduction.
Comprehensive Treatment: Addiction is a complex disease of the brain and body that involves compulsive use of one or more substances despite serious health and social consequences.
Addiction is defined as a disease by most medical associations, including the American Medical Association (AMA) and the American Society of Addiction Medicine (ASAM). Like diabetes, cancer, and heart disease, addiction is caused by a combination of behavioral, environmental and biological factors. Genetic risks factors account for about half of the likelihood that an individual will develop addiction. Addiction disrupts regions of the brain that are responsible for reward, motivation, learning, judgment and memory. It damages various body systems as well as families, relationships, schools, workplaces and neighborhoods.
Addiction is a complex biobehavioral disorder, and has diverse medical, behavioral, and social consequences that affect one's ability to function in virtually every life domain. Thus, the target outcome for treatment is not just reducing substance use; it must be restoring the individual to full functioning in the family, at work, and in society. The best treatments combine – as appropriate to the individual—medications, behavioral therapies, and necessary psychosocial services, including peer recovery support services. Different types of medications may be useful at different stages of treatment to help a patient treat withdrawal symptoms, stay in treatment, and prevent relapse. Individual treatment plans will vary. The good news is that even the most severe, chronic form of the disorder can be manageable and reversible, usually with intensive, long-term treatment and continued monitoring and support for recovery.