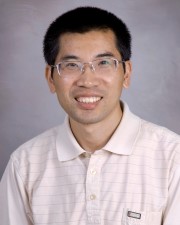 Biography
Dr. Wu is an Assistant Professor in the Department of Microbiology and Molecular Genetics at UTHealth Houston's McGovern Medical School. Dr. Wu received his Ph.D. in Microbiology from the Institute of Microbiology, Chinese Academy of Sciences, Beijing, China in 2007. After graduation he joined Dr. Fengxia Qi's lab at the Department of Oral Biology, College of Dentistry, University of Oklahoma Health Sciences Center as a Research Fellow where he studied oral bacterium Streptococcus mutans. Then, in 2009, Dr. Wu moved to the Department of Microbiology & Molecular Genetics at UTHealth Houston's McGovern Medical School as a postdoctoral fellow working with Dr. Hung Ton-That to elucidate the mechanism of surface pilus assembly on oral bacterium Actinomyces oris. In 2019, Dr. Wu joined in the lab of Dr. Danielle Garsin to study the pathogen-host interactions with the model host Caenorhabditis elegans. His current research primarily focuses on the regulations that modulate physical interactions between Fusobacterium nucleatum and oral microbiota.
Education
Postdoctoral Fellow

The University of Texas Health Science Center at Houston

Research Fellow

University of Oklahoma Health Sciences Center

Ph.D.

Institute of Microbiology, Chinese Academy of Sciences, Beijing, China, 2007
Areas of Interest
Research Interests
Cell-cell contact mechanism and communication among oral bacteria in dental plaque formation
Fusobacterium nucleatum is an oral pathobiont not only associated with periodontitis, but also with extra-oral disease such as preterm birth and colorectal cancer. Our current study is focused on understanding the regulations that control F. nucleatum-mediated coaggregation. Coaggregation is the formation of aggregates caused by cell-to-cell recognition of genetically distinct bacteria via the interactions between adhesins and their cognate complementary receptors; it is an important driving force for multispecies biofilm formation in nature. F. nucleatum is a prominent colonizer in dental plaque and has an outstanding coaggregation ability. F. nucleatum exhibits coaggregation with nearly all tested oral bacteria. Because of this, F. nucleatum has been proposed as a bridge microorganism in dental plaque by virtue of its coaggregation with early and late colonizers. In the past decades, intensive work has been done to find which bacteria can aggregate with F. nucleatum and which adhesins in F. nucleatum are responsible for their coaggregation. Studies of coaggregation have so far yielded four fusobacterial adhesins: FomA, Fap2, CmpA and RadD.  Of these, FomA and Fap2 bind Porphyromonas gingivalis, CmpA binds a specific Streptococcus strain, and RadD, a versatile adhesin, mediates fusobacterial aggregation with many early and late colonizers, including Aggregatibacter actinomycetemcomitans. Vital for plaque development, this RadD-mediated coaggregation process is an excellent experimental model for studying various cell-cell interactions within dental plaque. Theoretically, expression of adhesins in F. nucleatum should be tightly regulated since increasing surface adhesins promotes oral biofilm formation; however, reducing their levels results in bacterial dispersal, which changes the diversity and composition of dynamic dental plaque and probably shifts a health-associated plaque to a pathogenic one. Little is known about the regulatory mechanisms underlying the multispecies interactions involving F. nucleatum. We use a multidisciplinary approach including genetic, biochemical methods, mass spectrometry, fluorescence confocal microscopy, and electron microscopy to pursue the following questions related to RadD-mediated coaggregation.
Please visit Dr. Wu's Lab Page for more information.
Publications
Wu C, Karakuzu O, Garsin DA. Tribbles pseudokinase NIPI-3 regulates intestinal immunity in Caenorhabditis elegans by controlling SKN-1/Nrf activity. Cell Rep. 2021 Aug 17;36(7):109529. doi: 10.1016/j.celrep.2021.109529. PubMed PMID: 34407394; PubMed Central PMCID: PMC8393239.
Wu C, Chen Y, Scheible M, Chang C, Wittchen M, Lee J, Luong T, Tiner B, Tauch A, Das A, Ton-That H. Genetic and molecular determinants of polymicrobial interactions in Fusobacterium nucleatum PNAS  June 8, 2021 118 (23) e2006482118
Peluso EA, Scheible M, Ton-That H, Wu C. (2020) Genetic Manipulation and Virulence Assessment of Fusobacterium nucleatum. Curr Protoc Microbiol. 2020 Jun;57(1):e104. doi: 10.1002/cpmc.104
Chang C, Wu C*, Osipiuk J, Siegel SD, Zhu S, Liu X, Joachimiak A, Clubb RT, Das A, Ton-That H. (2019)  Cell-to-cell interaction requires optimal positioning of a pilus tip adhesin modulated by gram -positive transpeptidase enzymes. Proc Natl Acad Sci U S A. 2019 Sep 3;116(36):18041-18049
Wu C, Al Mamun AM, Luong TT, Hu B, Gu J, Lee JH, D'Amore M, Das A#, Ton-That H.(2018) Forward Genetic Dissection of Biofilm Development by Fusobacterium nucleatum: Novel Functions of Cell Division Proteins FtsX and EnvC. MBio. 2018 Apr 24; 9(2). pii: e00360-18. doi: 10.1128/mBio.00360-18