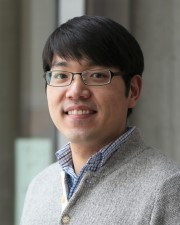 Biography
Dr. Jayhun Lee received his B.S. in Biological Sciences from Korea Advanced Institute of Science and Technology (KAIST) in Daejeon, South Korea. He then moved to the United States to join the laboratory of Dr. Tudorita Tumbar in the Department of Molecular Biology and Genetics at Cornell University (Ithaca, NY). There, Dr. Lee studied the genetic and epigenetic mechanisms governing stem cell quiescence and its relation to genome plasticity using mouse hair follicles as a model. Dr. Lee then joined the laboratory of Dr. Phillip Newmark (HHMI Investigator) at the University of Illinois at Urbana-Champaign (UIUC) to understand how parasites deploy stem cells for transmission and development using Schistosoma mansoni as a model. He later moved to the Morgridge Institute for Research at the University of Wisconsin–Madison with the rest of the Newmark lab, where he completed his postdoctoral fellowship. Dr. Lee joined the Department of Microbiology and Molecular Genetics at UTHealth Houston's McGovern Medical School in 2021 as an Assistant Professor.
Dr. Lee's research focuses on the biology of schistosomes, parasitic flatworms that cause schistosomiasis, a major parasitic disease that affects over 200 million people globally. Schistosomes can develop and reproduce for decades inside a mammalian host's blood vessels, where the immune system is highly active, mechanisms of which remain poorly understood. Dr. Lee is interested in investigating the molecular basis of stem cell-driven schistosome development and how such mechanisms endow parasites with an ability to withstand the host immunity.
Visit Dr. Lee's lab page for more information on current research.
Education
Postdoctoral Training

Morgridge Institute for Research at the University of Wisconsin–Madison

Ph.D. Biochemistry

Cornell University, 2013