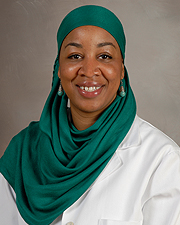 Anjail Z. Sharrief, MD, MPH
Associate Professor
Director of Stroke Prevention, UTHealth Institute of Stroke and Cerebrovascular Disease
Director, Stroke Transitions Education and Prevention (STEP) Program
Vice Chair, Diversity Equity and Inclusion
Biography
Dr. Anjail Sharrief-Ibrahim is an Associate Professor of Neurology and the Director of Stroke Prevention for the Institute of Stroke and Cerebrovascular Disease. She runs the Stroke Clinic and the Stroke Transitions Education and Prevention (STEP) Clinical Program that she founded in 2014.
Her research focuses on addressing health disparities and health outcomes in stroke survivors. She is also passionate about mentoring undergraduates, medical students, and residents to pursue academic careers in the neurosciences.
After graduating from Smith with a BA in Neuroscience, she worked at the National Institute of Mental Health as a Post-baccalaureate research trainee. She then completed medical training at Columbia University's College of Physicians and Surgeons and Neurology Residency at the Johns Hopkins Hospital in Baltimore, Maryland, serving as chief resident from 2010 to 2011. She also holds a Masters of Public Health from the Johns Hopkins Bloomberg School of Public Health (2012).
Dr. Sharrief has been funded by a career award and intramural grants on novel health care delivery models for secondary stroke prevention.
Education
Masters in Public Health

Johns Hopkins University, Baltimore, MD

Medical Degree

Columbia University College of Physicians and Surgeons, New York, NY

Internship

Johns Hopkins University, Baltimore, MD

Residency

Neurology, Johns Hopkins University, Baltimore, MD
Areas of Interest
Clinical Interests
General neurology and outpatient stroke prevention
Research Interests
Stroke prevention, stroke disparities, health services evaluation
Publications