Huntington's Disease Program
Designated a Center of Excellence by the Huntington's Disease Society of America (HDSA), our interdisciplinary team has extensive experience working with families throughout the course of the disease.
We are committed to providing high-quality, comprehensive Huntington's Disease (HD) patient care and clinical research.
About Huntington's Disease
A rare neurological disorder, HD makes slowly progressive changes to nerve cells in the brain. This eventually causes changes in memory, thinking, behavior, and involuntary body movements known as chorea. Each child of a parent with HD has a 50 percent chance of being born with the altered gene that causes HD. While there is currently no cure, there are effective treatments for symptoms, support for the entire family, and ongoing research to treat and cure HD.
What We Provide
Assessment, Treatment, and Support
Our team provides diagnosis and treatment of symptoms, focusing on quality of life. We offer neurocognitive testing, psychosocial support, planning for the future, and connection to community resources.
Genetic Testing and Counseling
Genetic testing to predict or confirm an HD diagnosis is available. Our testing process follows HDSA guidelines, which includes genetic counseling.
Rehabilitation
We collaborate with community providers experienced with HD. Our partners are experts in physical therapy, occupational therapy, speech therapy, and nutrition services.
Research
Our commitment to understanding, treating, and curing HD includes conducting research on many aspects of the disease. We invite patients to participate in the observational and clinical trials being conducted at our center.
Your HD Care
Our Approach
We strive to provide compassionate, comprehensive, expert healthcare to those impacted by HD. We honor our patients' goals, and work toward them together with a focus on quality of life as you define it. We care for the patient and their loved ones.
HD Clinic Visits
Clinic is held Wednesday afternoons, with visits available in-person or through telemedicine. We encourage you to include family and/or friends in your appointment. They can provide support, and, with your permission, additional information.
What to Bring to Clinic
List of questions, concerns, and/or possible symptoms you wish to discuss.
Current insurance cards and identification.
List of prescription and over-the-counter medications, vitamins, or supplements.
Medical records you want us to review. These are not required.
Drinks and/or snacks. Bottled water is available – please ask.
The First Appointment
We take a detailed health history for each new patient, a family health history, and we ask about goals for care. Patients will be seen by a fellow or resident, a neurologist, and a social worker. The genetic counselor is available to answer questions and/or provide testing. A research coordinator will let our patients know about research opportunities. Most first-time visits can take two to three hours. Insured patients will be billed their designated co-pay or cost share. Please contact us for an cost estimate if you do not have insurance.
Follow-up Appointments
Clinic visits focus on priorities for follow-up visits. We will discuss any symptoms the patient wants to address, and ask for updates on how the patient has been since their last appointment. Returning patient visits usually take 1-2 hours. Please contact us for an cost estimate for follow-up visits if you do not have insurance.
You can make a follow-up appointment at the front desk as you leave the clinic, or by calling our medical assistant, Ashley McMurtry, at (832) 325-7080.
We strive to coordinate scheduling of appointments for HD clinic visits, research, neuropsychological testing, and psychiatry to minimize separate visits.
Our social worker and genetic counselor are available to you and your loved ones in clinic during your visits, and by phone between appointments.
Who You Will See
Our team collaborates to provide coordinated interdisciplinary care. You may interact with some or all members during a visit. Please tell us your goals and if you wish to see certain providers.
Movement Disorder Neurologist
Board-certified, fellowship-trained physicians who specialize in the brain and treat conditions like HD.
Fellows and Residents
Physicians who have graduated from medical school and are completing additional training in neurology.
Psychiatrist
Physician who specializes in the brain and treats mental health and behavior changes related to HD.
Neuropsychologist
Licensed PhD psychologist who specializes in the relationship between the brain and behavior. Provides testing to identify changes in thinking or memory caused by HD, and give recommendations. Provides mental health assessment for genetic testing.
Genetic Counselor
Certified masters-level professional who has specialized education in genetics and testing. Provides information and counseling to help our patients understand the risks and benefits of testing, what to expect, and the results.
Social Worker
Licensed masters-level mental health providers who support patients and their loved ones on their journey with HD. Provides education, counseling, advocacy, advanced care and long-term care planning, and connection to resources.
Physical Therapist
Doctorate-level movement specialist who works with patients to improve mobility.
Medical Assistant
Allied health professional who supports the work of the team.
Research Faculty
MD and PhD scientists who conduct research to learn more about HD.
Research Coordinator
Masters or bachelors-level staff who carry out research by collecting data.
Communicating with Our Team
Medical Assistant Ashley McMurtry: (832) 325-7080
Scheduling appointments
Prescriptions
Medical orders for tests, imaging, outpatient or home health therapy
Symptom concerns, falls, hospitalization
Social Worker Amber McCarthy, LMSW: (713) 500-7168 direct
HD education
Emotional support
Resource connection
Advance care planning
Case management
Genetic Counselor Leslie Dunnington, MS, CGC: (713) 500-5667 direct
Genetics education
Genetic counseling and testing
When to expect genetic test results
Support family members considering testing
Research Coordinator Brittany Duncan: (713) 486-3134, brittany.j.duncan@uth.tmc.edu
Research participation opportunities – observational and clinical/drug trials
Office of Psychiatrist Antonio Teixeira, MD, PhD, MSc: (713) 486-2700
Office of Neuropsychologist Kendra Anderson, PhD: (713) 486-0514
Neuropsychological testing
Get reminders about our upcoming Huntington's Disease educational events »
Our Location
UT Professional Building
6410 Fannin, Suite 1010
Houston, TX 77030
(832) 325-7080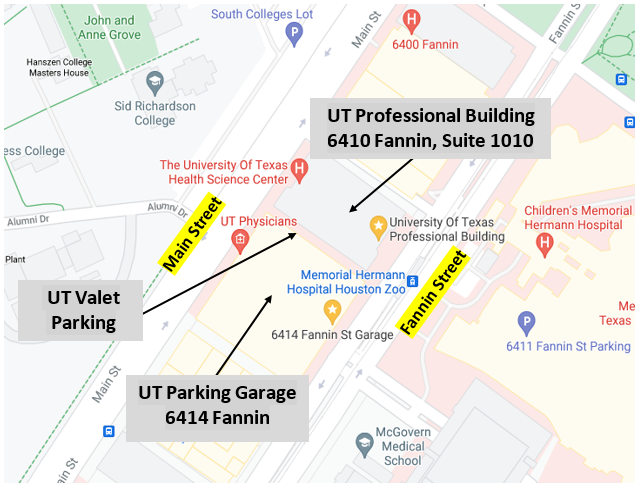 Valet Parking (Closes at 4:00 PM)
$12 – $20
Between Parking Garage and UT Professional Building.
Enter headed northbound on Main.
Parking Garage $4 – $20
Adjacent to UT Professional Building.
Enter from Fannin or Main.
Our Partners
HDSA Center of Excellence at UTHealth Houston Extension
HOUSTON
Harris Health Smith Clinic
Shivika Chandra, MD
(713) 526-4243
HDSA Center of Excellence at UTHealth Houston Partnering Sites
Georgetown
Texas Movement Disorder Specialists
Michael Soileau, MD
(512) 693-4041
Lubbock
Covenant Medical Group Neurology
Katie Hendley, MD
(806) 725-4115
San Antonio
UTHealth San Antonio
Pablo Coss, MD; Sarah Horn, MD; Oceans Vaou, MD; Angela Torres, LMSW
(210) 450-9960
Collaborating Clinics
Austin
Ascension Seton Brain & Spine Institute Neurology
Eric Krause, DO
(512) 324-3540 Austin, (512) 324-3540 Buda
Dallas
Neurology Consultants of Dallas
Nirav Pavasia, MD
(214) 750-9977
Get reminders about our upcoming Huntington's Disease educational events »