Neurocritical Care Fellowship Program
UTHealth Medical School offers a two-year neurocritical care fellowship for applicants who are board certified or eligible in neurology, emergency medicine, anesthesia or internal medicine. A one-year fellowship track is open to eligible candidates who have completed postgraduate training in neurosurgery, critical care, pulmonary critical care, anesthesia critical care or surgical critical care.
For one-year fellows, the educational curriculum is specifically designed to train physicians with a strong base in general critical care, with an emphasis on neurological and neurosurgical emergencies.
The Neurocritical Care Unit is an academic training environment where fellows lead a multispecialty, multidisciplinary team to provide high quality neurocritical care. Our teams include rotating residents from neurosurgery, neurology, and emergency medicine and rotating fellows from other critical care specialties, as well as stroke fellows.
Our daily rounds include multidisciplinary team including physicians, advanced practice providers, registered nurses, neurocritical care trained pharmacists, registered dietitians, and respiratory therapists. In addition to a wealth of knowledge within our own units, Fellows rotate through the medical, surgical/trauma, and cardiovascular ICUs. Electives available to our Fellows include: Anesthesiology, Stroke, EEG, TCD, Neuroradiology, Cardiovascular ICU, Surgical Trauma ICU, Transplant ICU and Burns ICU. Fellows can also rotate on the nation's first Mobile Stroke Unit.
One of the things that sets this innovative program apart is our emphasis on excellence in clinical care. The fellowship is clinically based- the volume and diversity of patient populations and procedures sets us apart from any other program. Our fellows do all their own endotracheal intubations, central line placement, dialysis catheter placement, arterial line placement, bronchoscopy, and chest tube placement. They have access to cutting edge technology including our most recent addition of the Swoop Portable MRI.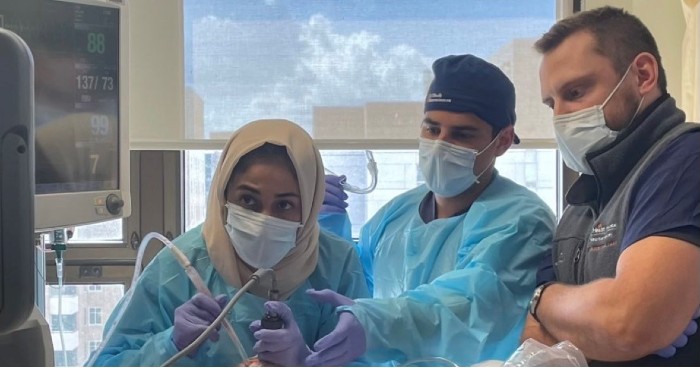 Our graduates are truly prepared for their future as Neurocritical Care Attending Physicians.
Fellows will have ample opportunity to participate in meaningful clinical and translational research as a part of an established research program. The Neurocritical care research team has dedicated research staff to support and help develop research ideas. Fellows will have access to a large clinical and biospecimen databank that is perhaps the most robust in the country. Please see our research page for more details.