Brain Tumor Center
The Brain Tumor Center at UTHealth Neurosciences is located in Houston, TX and is a leading center for brain- and spine-tumor diagnosis and treatment. The Center's team of neuroscience specialists combines clinical expertise and the latest technology with compassionate care, bringing hope to patients after a brain tumor diagnosis.
At UTHealth Neurosciences, neurologists, neurosurgeons, neuro-oncologists, and radiation oncologists work together to determine the care each patient needs, discussing treatment options as a group. This approach saves our patients time and money and allows our specialists to share each other's insights, leading to better treatment decision-making and outcomes.
Contact Us
At UTHealth Neurosciences, we offer patients access to specialized neurological care at clinics across the greater Houston area. To ask us a question, schedule an appointment, or learn more about us, please call (713) 486-8000, or click below to send us a message. In the event of an emergency, call 911 or go to the nearest Emergency Room.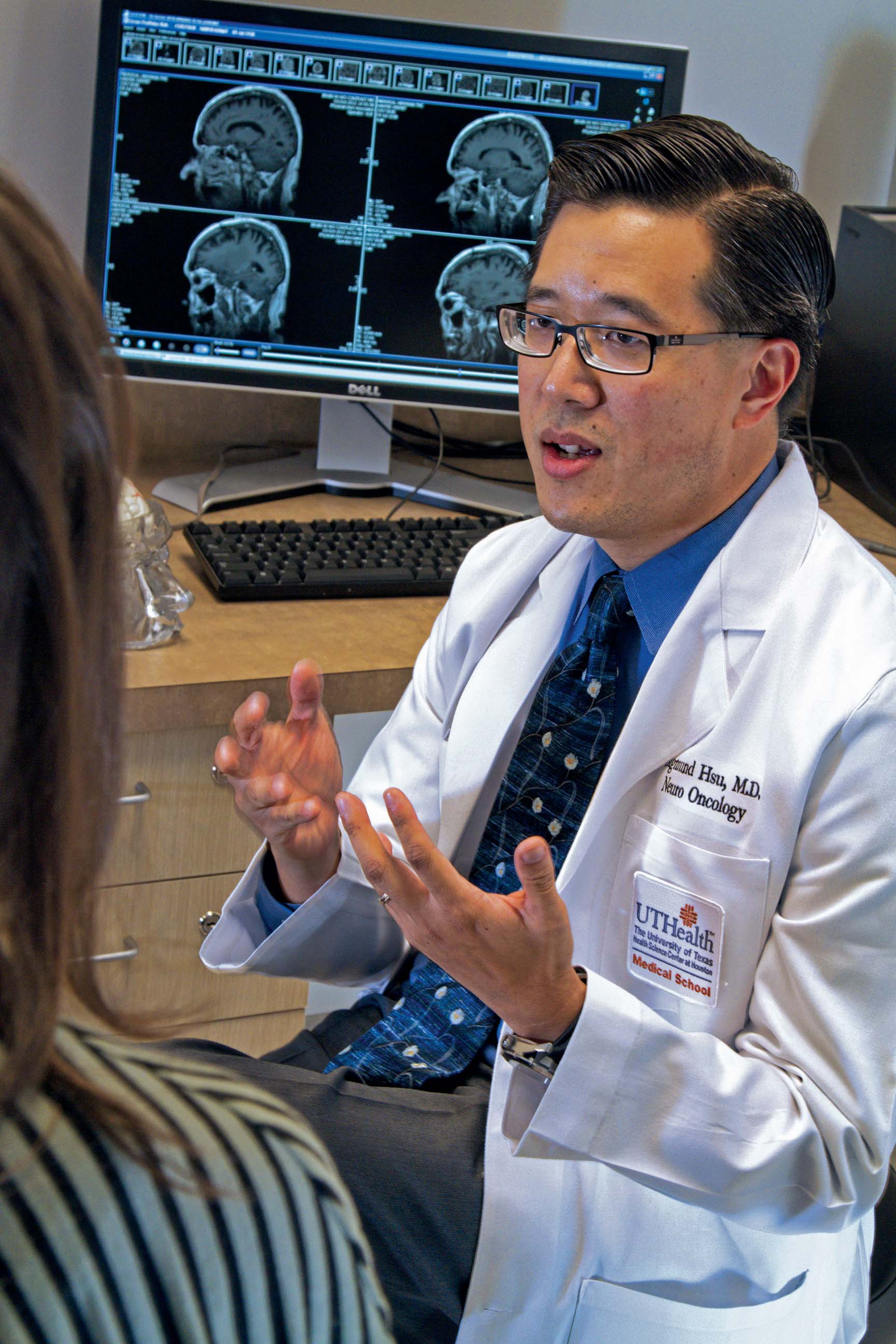 Neuro-oncologists Jay-Jiguang Zhu, M.D., Ph.D., and Sigmund H. Hsu, M.D., continue to expand the capabilities of the Brain Tumor Center at UTHealth Neurosciences, in the Texas Medical Center and in UTHealth Neurosciences clinics across the city. Dr. Zhu, fellowship trained at Massachusetts General Hospital, focuses his practice on primary brain tumors – gliomas, meningiomas and pituitary adenomas – and primary CNS lymphomas, as well as brain metastases and leptomeningeal spread of systemic malignancies. He is also interested in quality of life, including cognitive function during and after radiotherapy and chemotherapy; neurological complications of systemic chemotherapies; and clinical trials focused on developing new treatment options for primary brain tumors and CNS metastases. Dr. Hsu, fellowship trained at The University of Texas MD Anderson Cancer Center, has clinical and research interests in the discovery of new and more effective therapies for patients with primary brain tumors, treatment of metastatic cancer to the brain and spinal cord, and the evaluation and treatment of neurological problems in cancer patients.
Dr. Zhu is principal investigator in several trials that give eligible study participants access to new and advanced treatments. A Phase III multicenter, randomized, controlled trial is designed to test the efficacy and safety of a medical device called Novo TTF-100A for newly diagnosed glioblastoma multiforme (GBM) patients in combination with temozolomide, compared to temozolomide alone. The device, which patients wear on their scalp, provides a constant, safe, low-voltage electric field that has been shown to reduce tumor cell survival and division capacity.
He is also principal investigator of a randomized, double-blind, controlled Phase IIB clinical trial testing the safety and efficacy of the vaccine ICT-107 for newly diagnosed GBM patients following resection and chemoradiation, which began enrollment in August 2011. In addition, he is leading an open-label Phase I/II (Safety Lead-In) study of trans sodium crocetinate (TSC) with concomitant treatment of fractionated radiation therapy and temozolomide in newly diagnosed GBM, examines the safety and efficacy of radiation sensitizer of TSC in combination with fractionated radiation.
Dr. Zhu is also principal investigator in three new trials currently enrolling patients: a Phase II trial studying the safety and tolerance of intravenous 4-Demethy-4-cholesteryloxycarbonylpenclome (DM-CHOC-PEN) in patients with malignancies involving the central nervous system; a Phase II/III randomized trial of veliparib or placebo in combination with adjuvant temozolomide in newly diagnosed glioblastomas with MGMT promoter hypermethylation; and a Phase III trial evaluating DCVax®-L, autologous dendritic cells pulsed with tumor lysate antigen for the treatment of GBM.
Dr. Hsu is principal investigator in the trial of a novel taxol chemotherapy compound, TPI-287, which crosses the blood-brain barrier and will be administered in combination with bevacizumab, versus bevacizumab alone in adults with recurrent glioblastoma. He is also leading a Phase 2 dose-escalation study of TPI-287 in combination with bevacizumab in adults with recurrent or progressive glioblastoma following a bevacizumab-containing regimen.
---
FoundatoinOne Registry Study
The Brain Tumor Center was chosen as a site for the FoundationOne™ Registry study, a prospective observational study to examine practice patterns and impact on clinical decision-making associated with the FoundationOne next-generation sequencing test. Led by Dr. Hsu, the study enables physicians affiliated with the Institute to recommend optimal personalized treatment for patients with cancer. Patients benefit from other innovative and advanced technologies, including motor and language mapping, functional neuroimaging, frameless stereotactic navigation in surgery and awake craniotomies performed under local anesthesia, as well as minimally invasive procedures, including neuroendoscopy and stereotactic radiosurgery.
Clinical Trials
When conventional therapies prove unsuccessful, we provide our patients access to leading-edge clinical trials of investigational drugs and procedures.
View trials related to brain tumors here »
---
Specialized Tumor Clinics
In addition to routine multidisciplinary brain tumor clinics, UTHealth Houston Neurosciences physicians offer patients specialized care through multiple programs and clinics. The Pituitary Tumor and Vision Change Clinic ensures early and precise diagnosis of patients with pituitary and other parasellar tumors, which may cause a broad range of disorders and present with a variety of symptoms, including hormonal changes, vision loss and infertility. The Skull Base Program at the Institute treats patients with these tumors through minimally invasive endoscopic surgery, when appropriate.
At the Brain Metastases Clinic, a team of affiliated neuro-oncologists, neuroradiologists, radiation oncologists, neuropathologists, oncologists and neurosurgeons works closely with oncologists to provide personalized and innovative care to patients with brain tumors. Specialists at the Cancer Neurology Clinic treat patients with neurological issues resulting from chemotherapy.
At the Neurogenetics Clinic, a genetic counselor identifies genetic risk and explains inheritance patterns, provides education on the natural history of disease and discusses the risks, benefits and limitations of available genetic testing options.
---
Gamma Knife and Varian Trilogy
The region received its first Leksell Gamma Knife® in 1993, and is UTHealth is now using the more advanced Leksell Gamma Knife® Perfexion™. Patients who benefit from the Perfexion's sophisticated software with dose-to-target conformation include those with meningiomas and vestibular schwannomas; arteriovenous malformations; medically refractory trigeminal neuralgia; and metastases. Multiple intracranial metastases can usually be treated in a single outpatient procedure. Our neurosurgeons have performed more than 3,500 Gamma Knife procedures.
The Varian Trilogy linear accelerator is the first in a powerful new generation of cancer-fighting technologies, offering highest dose rates for shorter sessions. The system delivers 3-D conformal radiotherapy, IMRT, extracranial and intracranial stereotactic radiosurgery, fractionated stereotactic radiation therapy, stereotactic body radiosurgery (SBRT) and intensity-modulated radiosurgery for cancer and neurosurgical treatment.
The clinical team affiliated with the Brain Tumor Center works closely with referring physicians throughout the radiosurgical treatment process. A neurosurgeon and a radiation oncologist assess each candidate to determine whether radiosurgical treatment is the best option. Nurse navigators work directly with patients on scheduling and pretreatment education, and provide support and care on the day of treatment. The Center also sponsors a well-attended brain tumor support group that meets the second Wednesday of every month.
Breakthrough approaches to treatment provided by UTHealth specialists have led to an increase in the number of patients treated for brain tumors. Since 2009, volumes have increased by nearly 50 percent.
Pediatric Brain Tumors
Pediatric brain tumors are the second most common cancer in children, with approximately 2,500 to 3,500 brain tumors diagnosed in the United States each year.
Through the collaborative efforts of The University of Texas MD Anderson Children's Cancer Hospital, Children's Memorial Hermann Hospital and affiliated physicians from the McGovern Medical School at UTHealth, advances are being made in the treatment and survival of patients with brain and spinal cord tumors.