Laboratory of Hui-Wen Lo, PhD, MS, MA
Dr. Hui-Wen Lo joined the Department of Neurosurgery at McGovern Medical School in September 2022 as a professor with tenure; she serves as the inaugural director of the Metastatic Brain Tumor Research Program. Dr. Lo's research interests are primarily in molecular and cell biology that underlies tumor growth, tumor progression/metastasis, and cancer drug discovery and development. The Lo Laboratory has been focused on three cancer types, namely, breast cancer, breast cancer brain metastasis, and glioblastoma (the most common and deadliest brain malignancy in adults).
Aberrant cell signaling is a major hallmark of almost all types of cancer. Thus, the majority of targeted therapies have been directed against components of important signaling pathways including protein kinases and transcription factors. The lab has been investigating several of these pathways, including those mediated by EGFR and HER2, as well as the effectors downstream of both kinases, such as AKT, HSF1, and STAT3. Another major direction of the lab is to investigate molecular mechanisms underlying breast cancer brain metastasis, the end-stage of breast cancer progression that does not have an effective treatment.
The lab is particularly interested in investigating transcription factors, kinases and non-coding microRNAs for their roles in driving breast cancer metastasis to the brain and other organs. In addition to breast cancer, the lab is actively investigating glioblastoma, working to understand the role of a novel tumor suppressor, TUSC2, in GBM. The lab is also actively testing novel combination therapies for GBM. The Lo lab is actively involved in developing novel compounds that target important mediators of breast cancer metastasis and glioblastoma progression. Overall, the research conducted in the Lo Laboratory is multi-dimensional and highly collaborative and translational.
Current Projects
(1) Characterization of tGLI1 and miRNA-1290 for their roles in Breast Cancer Brain Metastasis (BCBM)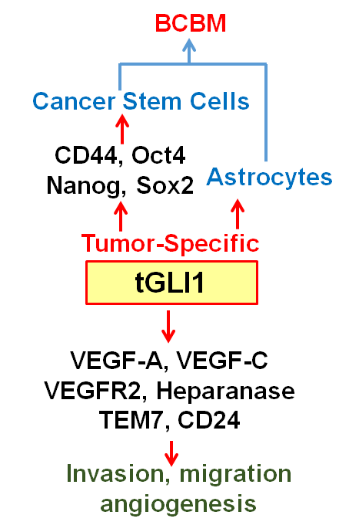 The goal of this project is to determine the role of tGLI1 (truncated glioma-associated oncogene homolog 1) in BCBM. Our laboratory discovered tGLI1 as an alternatively spliced GLI1 that lacks entire exon 3 and part of exon 4, but retains the ability to undergo nuclear transport and respond to sonic hedgehog-smoothened signaling. In addition to activating known GLI1 target genes, tGLI1 gains the ability to activate genes not regulated by GLI1, leading to increased migration, invasion and angiogenesis. Our mouse studies indicated that tGLI1 promotes breast cancer preferential metastasis to the brain (and conversely, tGLI1 knockdown selectively suppressed BCBM. tGLI1 protein is overexpressed in lymph node metastases and BCBM samples. In elucidating how tGLI1 promotes BCBM, we found that exosomes secreted from tGLI1-high cancer cells strongly activated astrocytes, the most abundant brain cells known to promote tumor growth when activated, and that tGLI1-high cancer cells had an increased ability to interact with and activate astrocytes in vitro and in vivo. Since microRNAs can be loaded into exosomes and circulating tumor exosomal miRNAs can prime distant organs for organ-specific metastasis, we conducted an exosomal miRNA microarray followed by validations and found that tGLI1-high cancer cells secreted high levels of exosomal miR-1290 and miR-1246 in vitro and in vivo. Whether miR-1290 and miR-1246 play any role in brain metastasis of any cancer or astrocytes is unknown. We observed that miR-1290/1246 inhibited expression of two transcription repressors (FOXA2 and SOX9), which leads to secretion of ciliary neurotropic factor (CNTF) to activate astrocytes and stimulate cancer cells. Ongoing projects in the Lo Lab are to identifying ovel mechanism for BCBM.
(2) Development of Novel tGLI1 Inhibitors for the Treatment of BCBM and Glioblastoma (GBM)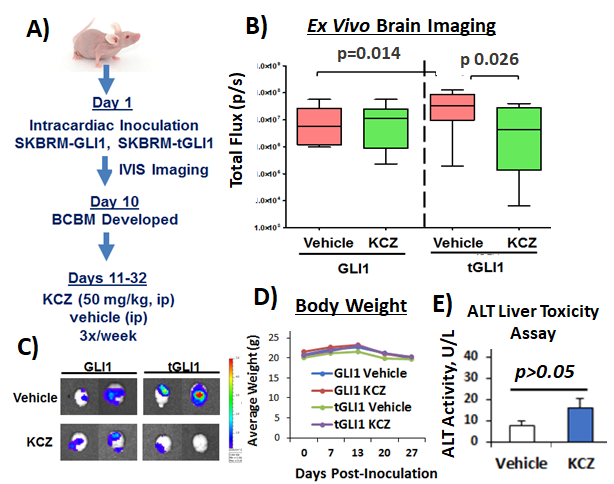 Given the tumor-specific expression of tGLI1, its high expression in BCBM and GBM sample, we hypothesized that pharmacological inhibitors of tGLI1 can effectively inhibit BCBM and GBM. Currently, there is no available tGLI1 inhibitors. Molecular structure for tGLI1 (or GLI1) is not available to allow for in silico identification of potential tGLI1 inhibitors. To initiate the effort in identifying tGLI1-targeted small molecules, we conducted cell-based screens followed by preclinical validations, and we identified an FDA-approved orally active antifungal KCZ to selectively target tGLI1-driven BCBM and effectively penetrate the BBB/BTB in mice without liver toxicities. These results have led to an active Phase 0 trial for BCBM and GBM (NCT03796273). We are continuing our efforts in developing effective and non-toxic tGLI1 inhibitors for the treatment of BCBM and GBM.
(3) Novel Tumor Suppressor TUSC2 in GBM Development and Progression.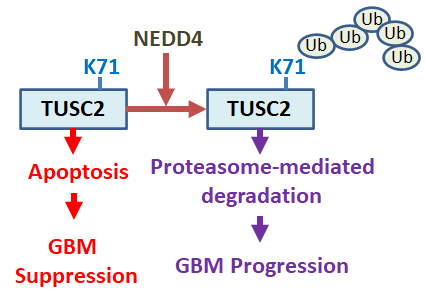 Molecular mechanisms for progression of GBM are still not completely understood. The goal of this application is to fill this knowledge gap by examining the role that tumor suppressor candidate 2 (TUSC2; also known as FUS1) plays in GBM progression. TUSC2 was initially identified as a candidate tumor suppressor gene that is deleted in some lung cancer. TUSC2's tumor suppressive effects in lung cancer are attributed to inducing cell cycle arrest and apoptosis although its exact functionality is unknown. In GBM, TUSC2 gene deletion is very rare (1/580 cases). Expression pattern of TUSC2 in GBM versus its cells of origin has never been examined. Whether TUSC2 plays any functional role in GBM is still mostly unknown. We recently reported an important tumor suppressive function of TUSC2 and its degradation by NEDD4 E3 ligase in GBM. CRISPR/Cas9-mediated TUSC2-knockout promotes in vivo progression of TUSC2(+) GBM xenografts. TUSC2 expression restoration inhibits TUSC2(-) PD-GSCs (patient-derived glioma stem cells) in vitro and in vivo (Fig. 3). TUSC2 protein is expressed in normal brain, but is lost or weakly expressed in the majority of GBM specimens and cell lines, and PD-GSCs; however, TUSC2 mRNA is expressed in both normal brain and GBMs. In contrast, both TUSC2 mRNA and protein are lost in lung cancer, but are highly expressed in normal lung tissues. TUSC2 protein is destabilized in GBM compared to astrocytes. TUSC2 interacts with NEDD4 E3 ubiquitin ligase, leading to polyubiquitination at K71 and proteasome-mediated degradation. TUSC2 polyubiquitination has not been reported. Ongoing projects in the Lo Lab are aimed at investigating the regulation of TUSC2 and elucidating TUSC2 functions in GBM.
Team Members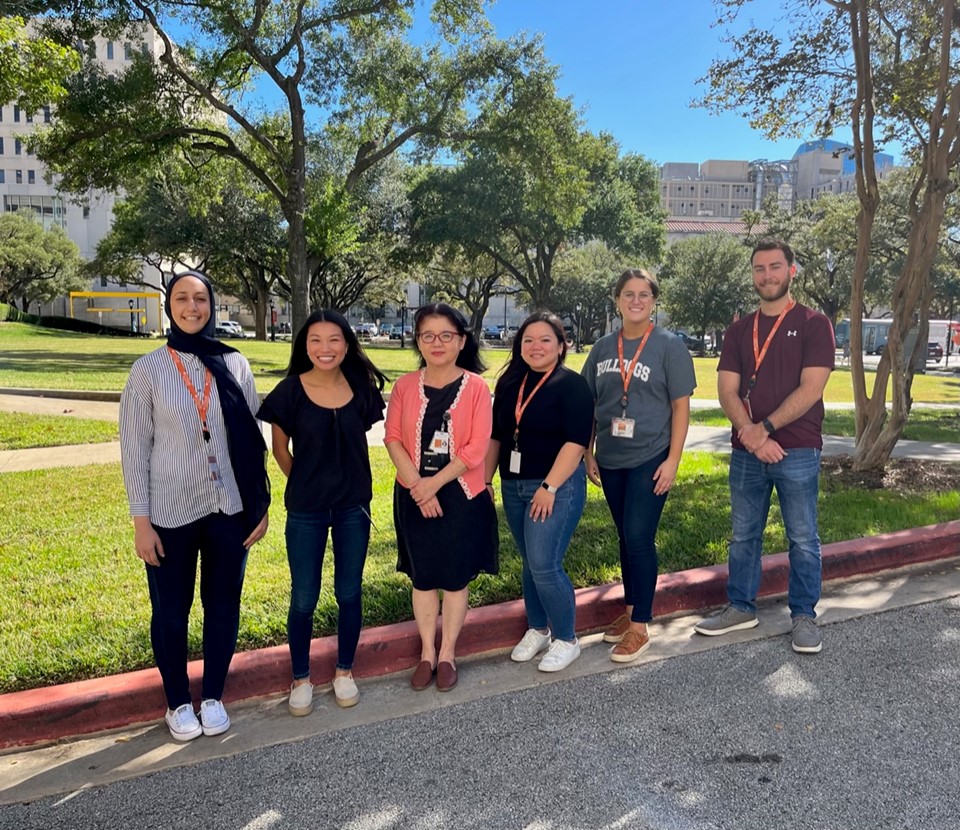 Left to Right:
Mariana Najjar, PharmD., Research Assistant II; M.S. Student
Grace Wong, M.S., Research Assistant II; Ph.D. Candidate
Hui-Wen Lo, Ph.D., Professor and Director, Metastatic Brain Tumor Research Program
Angelina Regua, Ph.D., Assistant Professor
Sara Manore, B.S., Research Assistant II; Ph.D. Candidate
Austin Arrigo, B.S., Research Associate; Ph.D. Candidate
Contact
Email: Hui-Wen.Lo@uth.tmc.edu
Phone: (713) 500-8918
Recent Publications
Daniel Doheny, Sara Manore, Sherona R. Sirkisoon, Dongqin Zhu, Noah R. Aguayo, Alexandria Harrison, Mariana Najjar, Marlyn Anguelov, Anderson O'Brien Cox, Cristina Furdui, Kounosuke Watabe, Thomas Hollis, Alexandra Thomas, Roy Strowd, Hui-Wen Lo. FDA-approved antifungal, ketoconazole, and its novel derivative suppress tGLI1-mediated breast cancer brain metastasis by inhibiting the DNA-binding activity of brain metastasis-promoting transcription factor tGLI1. Cancers 14(17), 4256, 2022.
Grace Wong, Sara Manore, Daniel L. Doheny, Hui-Wen Lo. STAT Family of Transcription Factors in Breast Cancer: Pathogenesis and Therapeutic Opportunities and Challenges, Seminars in Cancer Biology S1044-579X(22)00183-3, 2022.
Tadas K. Rimkus, Austin Arrigo, Dongqin Zhu, Richard L. Carpenter, Sherona Sirkisoon, Daniel Doheny, Angelina T. Regua1, Yang Yu, Grace L. Wong, Sara Manore, Calvin Wagner, Hui-Kuan Lin, Guangxu Jin, Jimmy Ruiz, Michael Chan, Waldemar Debinski, Hui-Wen Lo. NEDD4 degrades TUSC2 to promote glioblastoma progression. Cancer Letters 531:124-135, 2022.
Sherona R. Sirkisoon, Grace L. Wong1, Noah R. Aguayo, Daniel L. Doheny, Dongqin Zhu, Angelina T. Regua, Austin Arrigo, Sara G. Manore1, Calvin J. Wagner, Yang Yu, Alexandra Thomas, Ravi Singh, Fei Xing, Guangxu Jin, Kounosuke Watabe, and Hui-Wen Lo. Breast cancer-derived exosomal miR-1290 activates astrocytes in the brain-metastatic microenvironment through the miR-1290-FOXA2-CNTF signaling axis to promote progression of brain metastases. Cancer Letters 540:21572, 2022.
Angelina Tobias Regua, Noah Reeve Aguayo, Sara Abu Jalboush, Daniel Doheny, Sara Manore, Dongqin Zhu, Grace Wong, Austin Arrigo, Calvin Wagner, Yang Yu, Alexandra Thomas, Jimmy Ruiz, Guangxu Jin, Roy Strowd, Peiqing Sun, Jiayuh Lin, and Hui-Wen Lo. TrkA interacts with and phosphorylates STAT3 to enhance gene transcription and promote breast cancer stem cells in triple-negative and HER2-enriched breast cancers. Cancers. 13(10):2340, 2021.
Doheny D, Sirkisoon S, Carpenter RL, Aguayo NR, Regua AT, Anguelov M, Manore SG, Arrigo A, Jalboush SA, Wong GL, Yu Y, Wagner CJ, Chan M, Ruiz J, Thomas A, Strowd R, Lin J, Lo HW. Combined inhibition of JAK2-STAT3 and SMO-GLI1/tGLI1 pathways synergistically suppresses breast cancer stem cells, tumor growth, and metastasis. PMID: 32929154. PMCID: PMC7572897. Oncogene 39(42):6589-6605, 2020.
Sirkisoon SR, Carpenter RL, Rimkus T, Doheny D, Zhu D, Aguayo NR, Xing F, Chan M, Ruiz J, Metheny-Barlow LJ, Strowd R, Lin J, Regua AT, Arrigo A, Anguelov M, Pasche B, Debinski W, Watabe K, Lo HW. TGLI1 transcription factor mediates breast cancer brain metastasis via activating metastasis-initiating cancer stem cells and astrocytes in the tumor microenvironment. PMID: 31462709. Oncogene 39(1):64-78, 2020.
Rimkus TK, Carpenter RL, Sirkisoon SR, Zhu D, Pasche B, Chan MD, Lesser GJ, Tatter SB, Watabe K, Debinski W, Lo HW. Truncated glioma-associated oncogene homolog 1 (tGLI1) mediates mesenchymal glioblastoma via transcriptional activation of CD44. PMID:29463580. PMCID: PMC5955849 Cancer Research 78(10):2589-2600, 2018.
Sirkisoon, SR., Carpenter, RL., Rimkus T., Anderson, A., Harrison, A., Lange, AM., Jin, G., Watabe, W., & Lo, H.W. Interaction between STAT3 and GLI1/tGLI1 oncogenic transcription factors promotes the aggressiveness of Triple-negative and HER2-enriched breast cancers. PMID:29449694. PMCID: PMC5948110 Oncogene 37(19):2502-2514, 2018.
Carpenter RL, Sirkisoon S., Zhu D., Tadas Rimkus, Harrison A., Anderson A., Paw I., Qasem, S., Xing F., Liu Y., Chan M., Metheny-Barlow, L., Pasche, B., Debinski, D., Watabe, K., Lo, H-W. Combined inhibition of AKT and HSF1 suppresses breast cancer stem cells and tumor growth. PMID: 29088759 PMCID: PMC5650314 OncoTarget 8(43):73947-73963, 2017.