Movement Disorders and Neurodegenerative Diseases Program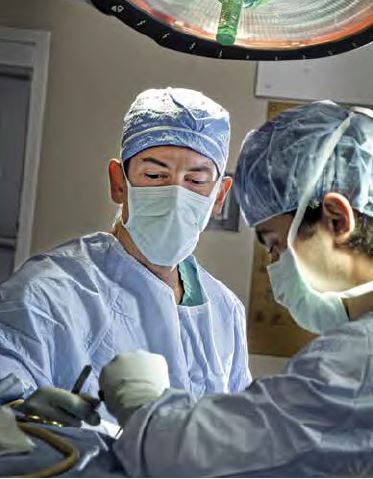 Using pioneering techniques and clinical expertise to diagnose, evaluate, manage and treat adult and geriatric patients, the Movement Disorders and Neurodegenerative Diseases Program, called UT MOVE, has established a track record of providing outstanding care and management for patients. The UT MOVE program provides patients with specialty clinics and faculty expertise in spasticity management, deep brain stimulation, neurotoxin injection therapy, Huntington's disease, Parkinsonian disorders, disorders of tremor, ataxia and those caused by traumatic brain injury.
The Spasticity Management Clinic offers pharmacological and surgical therapies, including the use of intrathecal baclofen pump therapy. Through the Deep Brain Stimulation (DBS) Clinic, candidates are selected for DBS therapy for the FDA-approved indications of Parkinson's disease, tremor and dystonia, which includes team management and programming of DBS therapy. At the Neurotoxin Injection Therapy Clinic, physicians use Botox®, Xeomin®, Myobloc® or Dysport® as indicated for abnormal states of dystonia, spasticity, chronic migraine and back pain.
The movement disorders medical team uses proven and investigational medications and interventional methods to manage Parkinson's disease, Parkinsonian disorders, generalized and focal dystonia, essential tremor and other tremor states, Huntington's chorea, restless leg syndrome and other sleep disorders like REM sleep behavior disorder, cortical and subcortical dementias, cerebral palsy, spasticity, ataxias, gait disorders, spinal and brain trauma-related movement abnormalities, multiple sclerosis-related movement abnormalities and other inherited and acquired neurodegenerative diseases.
---
Deep Brain Stimulation
The deep brain stimulation (DBS) program for Parkinson's tremor, dystonia and essential tremor is known for low complication rates and outstanding outcomes. Based on the skill of neurological and neurosurgical teams and their expertise in DBS programming, Mya Schiess, M.D., director of the Movement Disorders and Neurodegenerative Diseases Program, and her team advocate for early use of deep brain stimulation in appropriate patients.
In 2015, the DBS program saw record growth, and Dr. Schiess was the only representative from the United States participating in the international Consensus Panel to Formulate Criteria for the Selection of Parkinson's Disease Patients for DBS Therapy. UT MOVE faculty member Raja Mehanna, M.D., has added depth and understanding to the program's legacy in DBS with numerous publications of reviews, articles and a book on DBS therapy and outcomes.
---
Research
Research within the division of Movement Disorders and Neurodegenerative Diseases at UTHealth Medical School is substantial, with partnerships and collaborations among clinical and basic science studies and multiple disciplines, and funding from federal, pharmaceutical and philanthropic sources. Faculty in the program are members of the Movement Disorders Society, the Parkinson's Study Group, Huntington's Study Group, Tremor Research Group, Dystonia Coalition and Restless Legs Syndrome Study Group.