Spine Center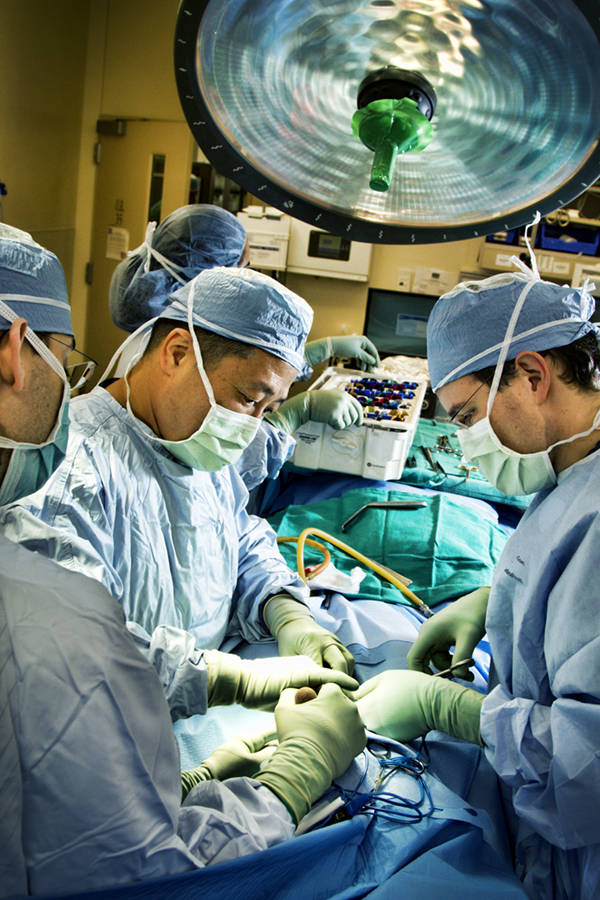 Our renowned spine surgeons offer the most advanced treatments available today, both surgical and nonsurgical. They typically perform more than 2,000 procedures annually, making the spine program the largest in the region.
Nationally and internationally renowned neurosurgeon Daniel H. Kim, M.D., FACS, FAANS, has expanded the spinal neurosurgery program and added expertise in reconstructive peripheral nerve surgery, complex spinal reconstruction and minimally invasive spinal surgery, both endoscopic and robotic. A clinical and educational leader in his field, he has authored hundreds of papers and published 20 surgical textbooks, many of which are used at leading medical schools to teach standard-of care techniques for neurosurgery. Dr. Kim is a pre-eminent researcher in peripheral nerve repair through nerve transfer and nerve graft, and is also recognized for his work in neurorehabilitation through robotics and cortical stimulation, spinal biomechanics and innovative neuromodulation treatments for chronic pain.
At the Spine Center a multidisciplinary team works in new, state-of-the-art facilities equipped with advanced instrumentation and dynamic imaging systems. They are skilled in minimally invasive spine procedures and innovative treatment options for patients with back pain resulting from trauma, degenerative disk disease, osteoporosis and related stress fractures, and deformity.
Conditions
Cervical disc disease
Cervical radiculopathy
Cervical spondylosis (degeneration)
Cervical stenosis
Cervical spinal cord injury
Peripheral Nerve Disorders
Spinal cord syrinxes
Spinal deformities
Spinal injuries
Spinal fractures and instability
Tethered spinal cord
Thoracic spinal cord injury
---
Rehabilitation and Pain Management
Rehabilitation begins in the hospital following surgery. In 2015, we opened a state-of-the-art 16-bed Neuroscience Elective Unit with 10 beds dedicated to patients who choose to have spine surgery. Six beds are ICU level, reserved for patients admitted for brain surgery – for conditions such as trigeminal neuralgia, Chiari malformation, and brain tumors.
Pain management is a critical part of the Institute's spine program, and neurosurgeons work closely with specialists in physical medicine and rehabilitation and interventional pain management to help patients manage chronic back and neck pain. The multidisciplinary team works closely together to provide a variety of interventions and strategies for self-management to help people regain control of their lives.
The Center's clinicians provide exceptional care for patients with traumatic spine injury, including the 10 to 20 percent of admissions through the Level I Texas Trauma Institute that involve neurological damage. Based on benchmark University Health System Consortium data, the Spine Center's inpatient mortality for spine trauma, degenerative spine disease and elective spine surgery has been consistently lower than expected for the past eight years.
Our physicians specialize in artificial disk replacement, birth palsies, brachial plexus injuries, carpal tunnel syndrome, congenital spine disorders, median nerve injuries, nerve sheath tumors, neurofibromatosis, neuromodulation for nerve injuries, neuromodulation for chronic headache, pelvic plexus injuries, peripheral nerve injuries, peroneal nerve injuries, pudendal nerve entrapment, piriformis syndrome, radial nerve injuries, sciatic nerve injuries, spinal AVMs, spinal stenosis, spine and spinal cord tumors, spine deformity, spine disk herniation, spine fractures, spine infection, tibial nerve injuries and ulnar nerve entrapment.
---
Research
As faculty at McGovern Medical School at UTHealth, our surgeons at the educate the next generation of spine experts and shape the future of medicine through basic science research, clinical discovery and the development of new, breakthrough treatments. Research under way at the Spine Center is focused on bringing promising therapies for spinal cord injury (SCI) patients from the laboratory to clinical trials in a manner that will provide evidence of effectiveness, with maximum safety, to patients undergoing treatment. Investigation is currently focused on tissue engineering matrices and axon regeneration, gene transmission and regulation of stem cell differentiation, the safety of the anticonvulsant drug riluzole in patients with SCI, and novel neuroprotection therapeutic approaches to SCI, among other projects. For more information please visit our research section.