Children's Neuroscience Center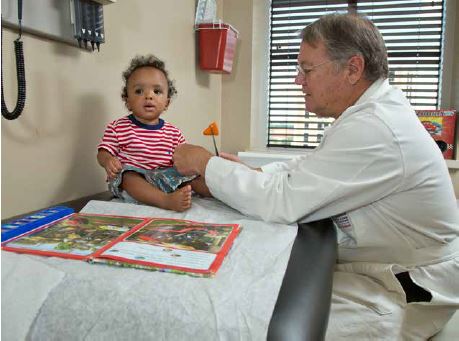 Pediatric neurosurgeons David Sandberg, MD, FAANS, FACS, FAAP, Stephen Fletcher, DO, Brandon Miller, MD, PhD, FAANS, and Manish Shah, MD, lead the pediatric department at UTHealth Neurosciences. Dr. Sandberg is a national leader in developing novel techniques to treat malignant brain tumors in children. Prior to his arrival to Houston, he performed translational studies that demonstrated the safety of infusing chemotherapeutic agents directly into the fourth ventricle to treat children with malignant brain tumors in this location. The promising results of these studies have led to several clinical trials which Dr. Sandberg leads as principal investigator.
Dr. Fletcher specializes in brain tumors, fetal neurosurgery, and vascular disorders in children. His research interests include Chiari malformation, comparative studies of canine and pediatric brain tumors, medical management of trauma-associated brain swelling, attempts at culturing brain tumor cell lines in collaboration with The University of Texas MD Anderson Children's Cancer Center, and development of innovative surgical options for management of fetal spina bifida patients.
Dr. Shah was recruited from Washington University in St. Louis after completing his fellowship at St. Louis Children's Hospital under world-renowned pediatric neurosurgeon Tae Sung Park, M.D. His special expertise in the surgical management of spasticity and dystonia in children led to his appointment as director of pediatric spasticity and movement disorder surgery at Children's Memorial Hermann Hospital. Dr. Shah directs the Texas Comprehensive Spasticity Center, a multidisciplinary, multi-physician clinic focused on treating children with cerebral palsy, spasticity, dystonia and other movement disorders. He performs selective dorsal rhizotomies, baclofen pump placement and advanced deep brain stimulation and is also an expert in pediatric epilepsy, craniofacial surgery and craniocervical spine surgery.
---
Minimally Invasive Surgery
To avoid the many complications of ventriculoperitoneal shunting for children with hydrocephalus, pediatric neurosurgeons affiliated with the Institute frequently perform minimally invasive endoscopic techniques such as third ventriculostomy, septostomy, choroid plexus coagulation and fenestration of arachnoid cysts.
Selected brain tumors can be biopsied or removed completely via endoscopic techniques. All of these procedures are performed through very small incisions with minimal hair shaving. In collaboration with otolaryngologists affiliated with Memorial Hermann- Texas Medical Center, neurosurgeons also remove some tumors via endoscopic transnasal approaches without an external incision.
---
Clinical Trials
Researchers with McGovern Medical School at UTHealth Houston are helpting shape the future of medicine through clinical discovery and the development of new, breakthrough treatments. For more information on pediatric clinical trials, please contact us at (713) 500-7300 or click below.
---
A Multidisciplinary Team
Pediatric neurosurgeons at UTHealth Neurosciences are important members of The Fetal Center, a national leader in providing diagnosis, treatment and complete care for mothers with high-risk pregnancies and infants with congenital anomalies or genetic conditions. The multidisciplinary team performed the first fetal spina bifida repair in the region, and patients are now being referred to the Center for fetal myelomeningocele repair from throughout Texas and a number of surrounding states. Dr. Fletcher leads fetal pediatric neurosurgery efforts.
In collaboration with nationally recognized craniofacial plastic surgeons, our pediatric neurosurgeons perform both conventional and minimally invasive endoscopic surgeries to repair craniosynostosis and other complex craniofacial anomalies. The multidisciplinary Texas Cleft-Craniofacial Team was established in 1952 and has been a regional leader for pediatric craniofacial surgery for decades.
Conditions
Arteriovenous Malformation (AVM)
Emergencies
---
Epilepsy Care for Children
UTHealth Neurosciences is also a center of excellence for pediatric epilepsy surgery and comprehensive specialized care for children with intractable epilepsy. The pediatric Epilepsy Monitoring Unit is the largest and most comprehensive of its kind in the southwestern United States. In addition to MRI and CT with low radiation dose protocols for pediatric patients, affiliated physicians use the Elekta Neuromag® for noninvasive functional mapping of brain activity with magnetoencephalography (MEG) to locate the source of epileptic seizures and minimize risk for children undergoing resective surgery for refractory epilepsy. For the most accurate diagnosis they also use stereo EEG, video EEG, PET, SPECT, memory and speech (Wada) testing, and neuropsychological testing.
Interventions include medical management and the ketogenic diet as well as surgery, including vagus nerve stimulation and laser ablation procedures. Nitin Tandon, M.D., directs the epilepsy surgery program. Manish Shah, M.D., is the pediatric neurosurgeon for pediatric epilepsy surgery. Gretchen Von Allmen, M.D., is chief of pediatric epilepsy for the Texas Comprehensive Epilepsy Program and medical director of the Children's Memorial Hermann Hospital Pediatric Epilepsy Monitoring Unit. Along with pediatric epileptologists Jeremy Lankford, M.D., and Michael Watkins, M.D., they work together with other adult and pediatric epilepsy specialists to manage patients over their entire lifespan for a seamless transition of care.
---
Texas Comprehensive Spasticity Center
We are dedicated to helping our patients and their families through any challenges, as we provide personalized care and the most appropriate treatments. We typically see patients between the ages of 2 and 18. For patients younger than 2, we offer consultation as necessary to help with spasticity management.
If you have questions regarding your care, please contact our dedicated patient coordinator at (832) 325-7147.
---
Scope of Services
The Children's Neuroscience Center provides a broad range of diagnostic and treatment services for children with complex neurological problems including autism, brachial plexus disorders, brain tumors and malformations, cerebral palsy, congenital hydrocephalus, craniofacial disorders, developmental disorders, epilepsy, chronic headache and migraine, head trauma, learning disabilities, movement disorders, myopathy, neurofibromatosis, neurometabolic disorders, neuromuscular disorders, pediatric stroke, peripheral nerve disorders, sleep disorders, spasticity, spina bifida, Tourette syndrome and tuberous sclerosis complex. Physicians affiliated with the Center have specialized pediatric neurosurgical expertise in congenital malformations, including Chiari malformation; endoscopic neurosurgery; and treatment for pediatric stroke, spinal deformities, and traumatic brain and spine injury.