Laboratory of John Hagan, Ph.D.
OVERVIEW
The laboratory of Dr. John Hagan has two primary research interests where we seek to translate our research discoveries to the clinic to improve human health:
Defining genetic factors that contribute to intracranial aneurysms using clinical genomics and animal models
Understanding the role of microRNAs and their post-transcriptional regulators in development, normal physiology, and disease with an emphasis on LIN28/let-7 pathway and 3' RNA uridylation
Dr. Hagan received his PhD from the University of Pittsburgh under Dr. Paula Grabowski. His postdoctoral training was at the National Cancer Institute with Dr. Colin Stewart, at the Ohio State University Medical Center with Dr. Carlo Croce, and lastly, at Harvard Medical School with Dr. Richard Gregory. To date, Dr. Hagan's research has been cited more than 10,000 times.
Complete List of Published Works (from 2004, n=47, >10,000 citations, h-index=34, i10-index=39, e-index=94, Publication Metrics via Google Scholar):
https://scholar.google.com/citations?user=rA8z4gUAAAAJ
https://www.ncbi.nlm.nih.gov/myncbi/john.hagan.1/bibliography/public/
---
Intracranial Aneurysm Research
An intracranial aneurysm (IA) is a weakened area in a cerebral artery wall that leads to abnormal dilatation whose rupture causes subarachnoid hemorrhage (SAH), a major cause of hemorrhagic stroke. Due to early age of onset and high mortality, SAH accounts for >25% of years lost for all stroke victims under the age of 65 years. Despite treatment advances, SAH mortality rate is 40% and only half of survivors return to independent life. There is a dire need to understand the genetic and molecular basis for IA to improve clinical outcomes through early therapeutic intervention. Genetic factors play a significant role in IA pathogenesis as illustrated by genome wide association studies (GWAS), IA-predisposing genetic syndromes, family studies, and mouse research. Of note, traditional GWAS focus on common variants (≥5% minor allele frequency) and would miss rare variants of large effect size as evidenced by IA families with autosomal dominant disease. To date, IA-predisposing syndromes and loci implicated by GWAS account for just over half the heritability of IA.
Dr. Hagan's intracranial aneurysm research is focused on using clinical human genetics and animal models to discover novel gene mutations that contribute to intracranial aneurysm development and to define dysregulated pathways in disease that are potential therapeutic targets. Of note, recent research with multiple collaborators has identified THSD1 as a bona fide IA-causing gene whose mutation causes intracranial aneurysms in both familial and sporadic cases with supporting evidence from both zebrafish and genetically engineered mouse models.  Recently, we analyzed additional large families with at least four individuals affected by disease, identifying additional candidate genes using whole exome sequencing. Future studies are planned to use whole genome sequencing in both families and our large patient cohort to analyze the genome comprehensively to identify which candidate genes are associated with disease.
Research Accomplishments in Defining Novel Intracranial Aneurysm Disease Mutations
Since intracranial aneurysm are typically asymptomatic until their devastating rupture, it is exceptionally difficult to recruit a large patient cohort. In collaboration with the Neuroscience Research Repository, we have overcome this obstacle by a decade long quest to enroll large numbers of both patients as well as their family members with informed consent.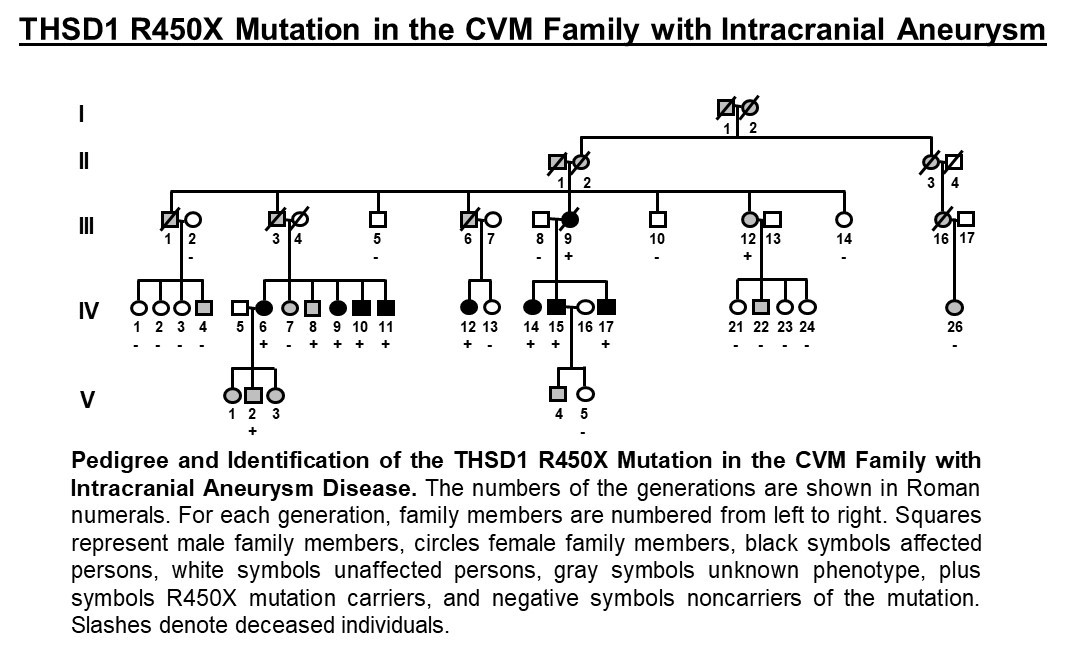 We have used cutting edge technology including whole exome sequencing to define gene mutations in families that are associated with disease with evidence of causality using animal models.  As proof-of-principle, we recently discovered how a specific mutation in the THSD1 gene contributes to the pathophysiology of intracranial aneurysms using whole exome sequencing and research in both zebrafish and mouse models. By examining a well-characterized and clearly defined cohort of patients and families affected by this type of aneurysm, we have identified the first genetic cause in a single large family, then extended this finding to other unrelated patients and families. To do so, we enrolled more than 100 affected families and clinically characterized more than 500 IA (intracranial aneurysm) probands. By performing whole exome sequencing on a large family, we were able to reveal a segregating nonsense THSD1 mutation.
Additional THSD1 mutations were then noted in 8 unrelated probands, both familial and sporadic. Thsd1 loss-of-function studies in zebrafish and mice were then used for in vivo analyses, and functional studies were performed using an in vitro endothelial cell model. We discovered Thsd1 loss-of-function in zebrafish and mice caused cerebral bleeding (which localized to the subarachnoid space in mice) and increased mortality. Mechanistically, THSD1 loss impaired endothelial cell focal adhesion to the basement membrane. These adhesion defects could be rescued by expression of wild-type THSD1 but not THSD1 mutants identified in intracranial aneurysm patients. These findings have provided new insight into intracranial aneurysm pathogenesis and new understanding of the overall function of THSD1, a protein that has been poorly characterized to date.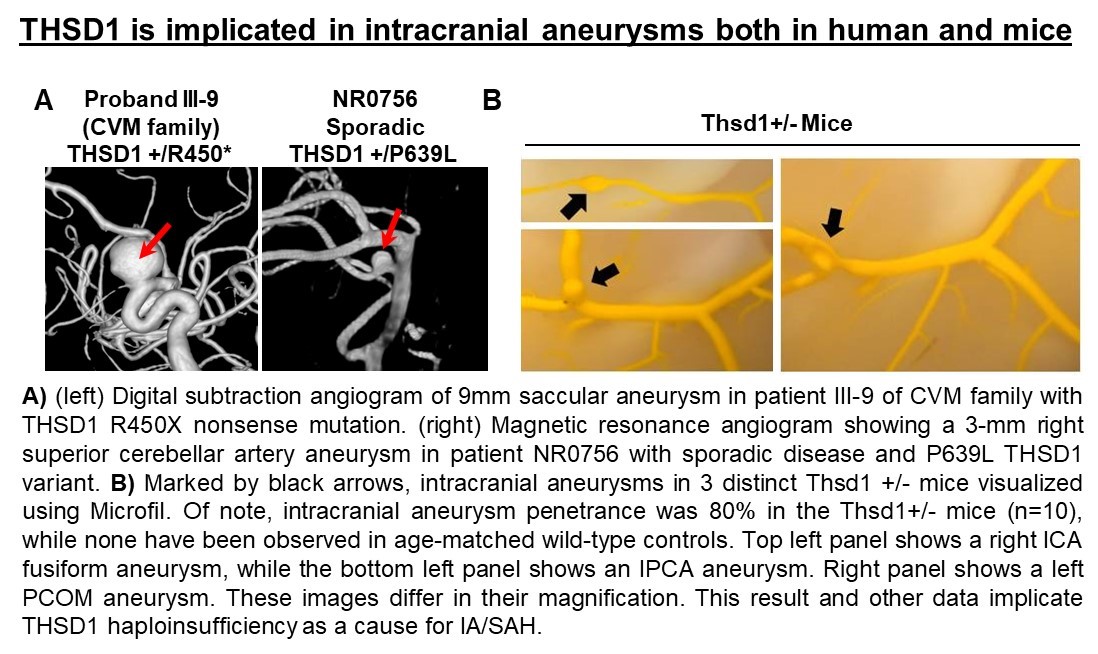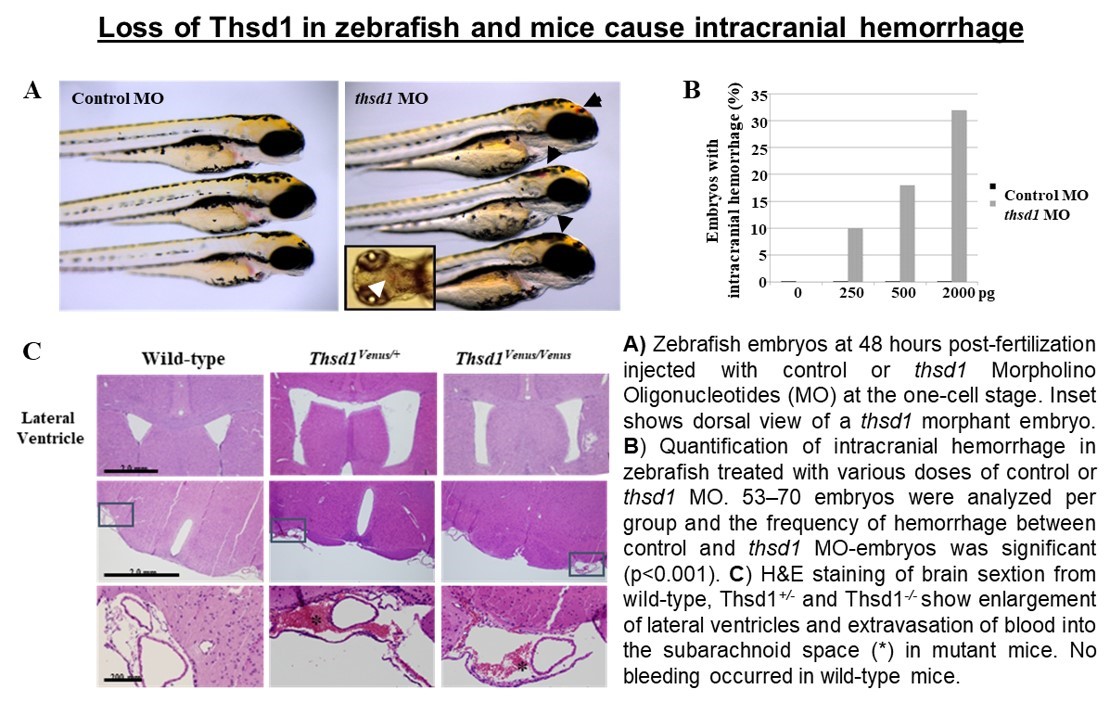 3' RNA Uridylation and the LIN28/let-7 pathway
Research in the Hagan laboratory is focused on understanding the roles of 3' RNA uridylation in regulating gene expression (both microRNAs and mRNAs) and translating these discoveries into novel cancer therapeutics. Our microRNA work revolves primarily around the LIN28/let-7 pathway that plays critical roles in cancer, glucose metabolism, tissue repair, and reprogramming (i.e., the generation of induced pluripotent stem cells).
The lab is actively pursuing understanding the role of microRNAs and their regulators in cancer with an aim of developing next generation therapeutics.  Dr. Hagan has demonstrated that the proto-oncogene LIN28 represses the tumor suppressor let-7 microRNAs. LIN28 overexpression and let-7 repression is associated with poor prognosis in a myriad of cancer types, including glioblastoma multiforme, medulloblastoma, neuroblastoma, atypical teratoid/rhabdoid tumors, multiple myeloma, liver, breast, ovarian, and colon cancers. LIN28 via a let-7 dependent mechanism is believed to promote poor cancer prognosis by promoting resistance to several frontline cancer treatments including ionizing radiation and multiple chemotherapy drugs. For LIN28A, this proto-oncogene requires the TUTase ZCCHC11 to repress let-7 biogenesis via 3' RNA uridylation. Terminal Uridylyl Transferase (TUTase) are the enzymes responsible for 3' RNA uridylation and are attractive targets for therapeutic intervention. Efforts are ongoing to target the LIN28/let-7 pathway to improve patient outcomes.
An additional function for the TUTases ZCCHC11 and ZCCHC6 was reported by Narry Kim's lab. Specifically, they showed that these enzymes uridylate many polyadenylated mRNAs, resulting in their enhanced degradation. This observation is consistent with our unpublished data where we found that many tumor suppressor genes are regulated negatively by Zcchc11, independently of the Lin28/let-7 pathway. There is also evidence that TUTase inhibitors may be beneficial in other diseases and specific cancer types independent of the LIN28/Let-7 pathway.
The clinical significance of this finding is illustrated by the fact that ZCCHC11 and E2F1are a dual gene classifier that predicts poor breast cancer prognosis, independently of tumor subtype and LIN28 status. Therefore, we seek to define specific and cancer relevant changes in gene expression upon modulations of ZCCHC11 levels and understand how mechanistically some mRNA are specifically targeted by 3' RNA uridylation.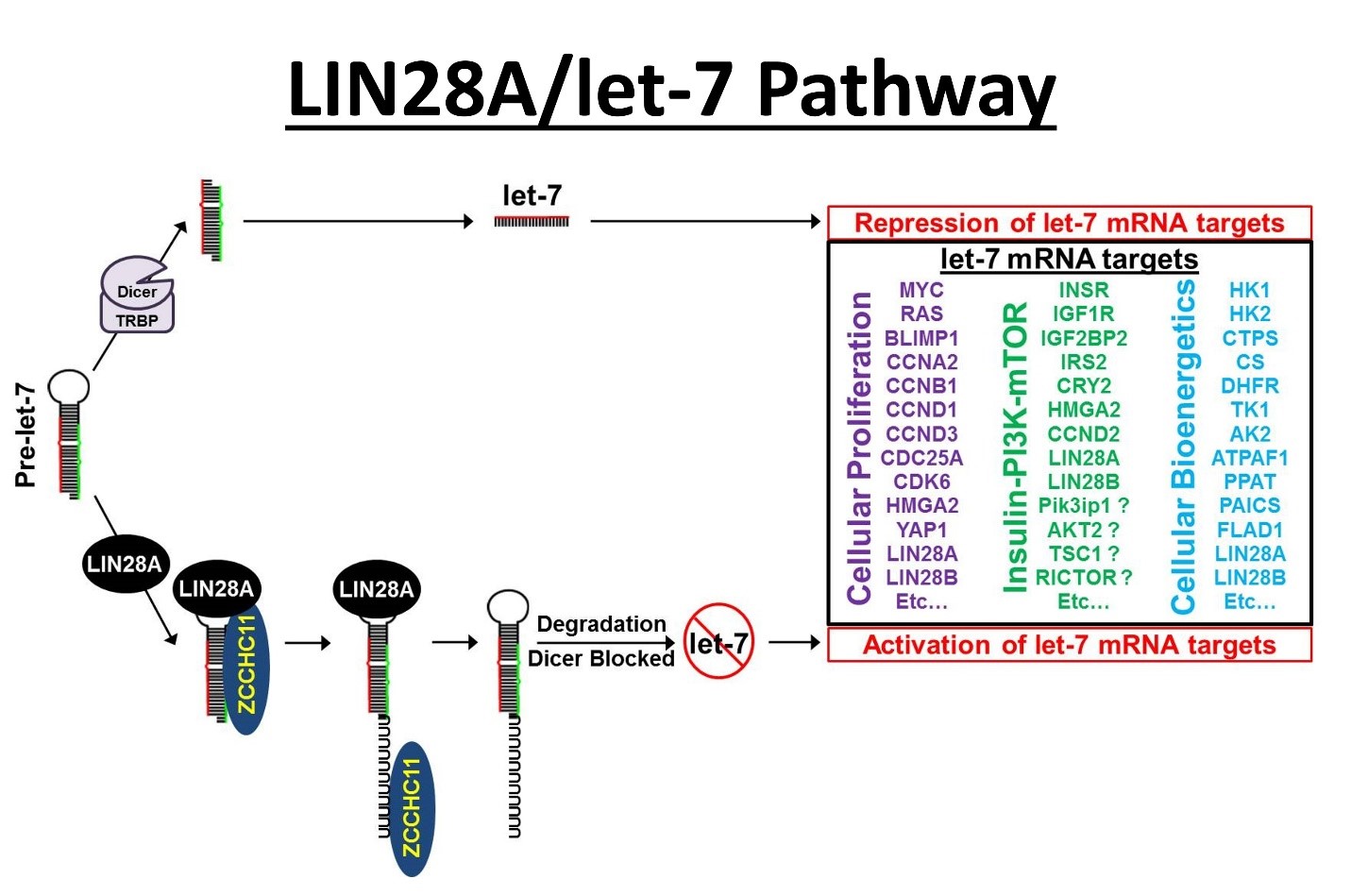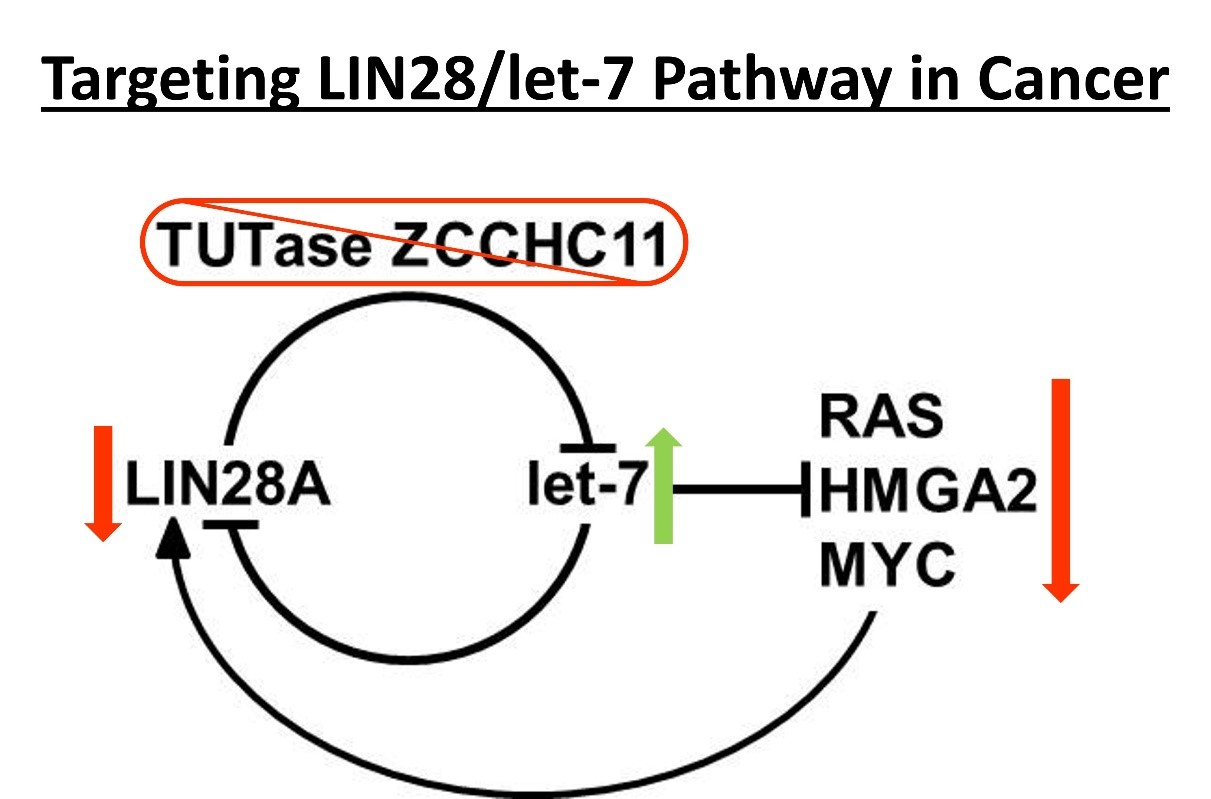 Dr. John Hagan also leads a project to understanding the role of microRNA in meningiomas, which account for 20% of all central nervous system tumors. Previously, Dr. John Hagan in collaboration with researchers at The Hospital for Sick Children in Toronto have defined microRNA expression signatures in medulloblastoma, the most common pediatric brain cancer, that classify medulloblastoma subtypes and stratify disease outcomes.
Peer-Reviewed Publications (2004-Present)
# = equal contribution
* = corresponding or co-corresponding author 
BOOK CHAPTERS
Kim, D.H., Santiago-Sim, T., Qualmann, K.J., O'Leary, J.S.B, Rui, Y.N., Yan, Y., Zhen, X., and Hagan, J.P., and Kim, D.H. Pathobiology of Intracranial Aneurysms. Youmans and Winn Neurological Surgery (8th edition), 2022
PATENTS
Provisional Patents – (All Filed on January 5, 2022 with USPTO)
Inventors: Dong H. Kim, Yuanqing Yan, Yanning Rui, Zhen Xu, and John P. Hagan. Methods and Reagents for Characterizing THSD1 Function. U.S. Provisional Application No.: 63/296,817
Inventors: Dong H. Kim, Yanning Rui, Zhen Xu, and John P. Hagan. Autophagy as a Therapeutic Target for Intracranial Aneurysm. U.S. Provisional Application No.: 63/296,820
Inventors: Dong H. Kim, Yanning Rui, Zhen Xu, and John P. Hagan. Podosomes as a Therapeutic Target for Intracranial Aneurysm. U.S. Provisional Application No.: 63/296,821
Inventors: Dong H. Kim, Yanning Rui, Zhen Xu, and John P. Hagan. TGF-β as a Therapeutic Target for Intracranial Aneurysm. U.S. Provisional Application No.: 63/296,825
Patents – (All Filed on May 25, 2022 with USPTO)
Inventors: Dong H. Kim, Yuanqing Yan, Yanning Rui, Zhen Xu, and John P. Hagan. Methods and Reagents for Characterizing THSD1 Function. U.S. Provisional Application No.: 63/296,817
Inventors: Dong H. Kim, Yanning Rui, Zhen Xu, and John P. Hagan. Autophagy as a Therapeutic Target for Intracranial Aneurysm. U.S. Provisional Application No.: 63/296,820
Inventors: Dong H. Kim, Yanning Rui, Zhen Xu, and John P. Hagan. Podosomes as a Therapeutic Target for Intracranial Aneurysm. U.S. Provisional Application No.: 63/296,821
Inventors: Dong H. Kim, Yanning Rui, Zhen Xu, and John P. Hagan. TGF-β as a Therapeutic Target for Intracranial Aneurysm. U.S. Provisional Application No.: 63/296,825