Sigmund H. Hsu, MD
Neurologist
Assistant Professor
Vivian L. Smith Department of Neurosurgery
McGovern Medical School, UTHealth
Dr. Sigmund Hsu is fellowship trained and certified by the American Board of Psychiatry and Neurology, with extensive experience in the evaluation and treatment of neurological disorders in cancer patients. He specializes in primary brain tumors as well as brain and spinal cord metastases, cancer neurology and the treatment of chemotherapy neurotoxicity.
Dr. Hsu earned both his undergraduate and medical degrees from Brown University in Providence, Rhode Island. He completed his medical internship at the Hospital of St. Raphael at Yale University in New Haven, Connecticut, where he was awarded medical intern of the year in 1996. After his residency at Weill Cornell Medical Center in New York, with Fred Plum, MD, and Jerome Posner, MD, Dr. Hsu completed his fellowship training in neuro-oncology at The University of Texas MD Anderson Cancer Center.
Prior to joining the UTHealth Houston, Dr. Hsu was on the faculty at MD Anderson, where he served as assistant professor of neuro-oncology and neurology residency program director. He is a charter member of the Brain Tumor Network and has volunteered for several years for Run for the Rose, serving as the medical director from 2005 to 2007.
Dr. Hsu has presented research at several national conferences, and his work has been published in numerous journals and textbooks. His most recent research has focused on novel therapies for recurrent primary CNS lymphoma, recurrent glioblastoma multiforme and intralumbar injections for cancer therapy, and he has several patents granted and pending for his treatments.
Education/Training
Medical School
Brown University , 1995
Residency
Columbia University Medical Center, 1999
Fellowship
MD Anderson Cancer Center, 2002
Clinical Interests
Cancer neurology, Chemotherapy neurotoxicity, Leptomeningeal metastases, Meningeal malignancies, Recurrent glioblastoma multiforme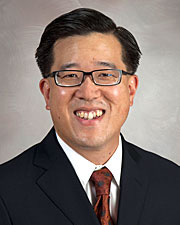 Dr. Hsu Sees Patients at:
UTHealth Neurosciences–Texas Medical Center
(713) 486-8000
6400 Fannin Street, Suite 2800
Houston, TX 77030
Driving Directions