Jay-Jiguang Zhu, MD, PhD
Neurologist
Professor
Vivian L. Smith Department of Neurosurgery
McGovern Medical School at UTHealth
Dr. Jay-Jiguang Zhu is a fellowship-trained, board-certified neurologist with specific expertise in neuro-oncology and neurology. He specializes in treating patients with primary brain tumors and central nervous system (CNS) metastasis.
Dr. Zhu earned his medical degree from McGill University in Montreal, Quebec, Canada. He completed his residency training in neurology at Tufts University School of Medicine in Boston, Mass. He subsequently completed his fellowship in neuro­-oncology at Massachusetts General Hospital, Harvard Medical School in Boston.
Prior to entering medical school, Dr. Zhu received his doctorate in molecular biology at State University of New York in Buffalo, N.Y., and completed his post-doctoral training in CNS tumorigenesis research at Children's Hospital, Brigham and Woman's Hospital, Harvard Medical School.
Before joining UTHealth Neurosciences, Dr. Zhu was on the faculty of Tufts Medical Center and Tufts University School of Medicine where he served as an assistant professor and attending in neurology, hematology and oncology. His many honors and awards include CUSBEA scholar (China and United States Biochemistry Exchange Application), Massachusetts Medical Society Scholarships, the Abby H. Shevitz, M.D. Young Physician award, and Teaching Award from the class of 2002 at Tufts University School of Medicine.
Dr. Zhu is dedicated to delivering exceptional patient care through multidisciplinary teamwork. He is committed to providing patients the best treatment options available and to maximizing each patient's quality of life. Through collaboration with clinicians and research scientists, he will combine clinical data with sophisticated molecular assays and powerful imaging techniques to formulate individualized treatment plans and develop new treatment options for primary brain tumors and CNS metastasis.
Education/Training
Medical School
McGill University, 1999
Residency
Tufts University School of Medicine, 2003
Fellowship
Harvard Medical School Dana-Farber Cancer Center, 2005
Board Certification
American Board of Psychiatry and Neurology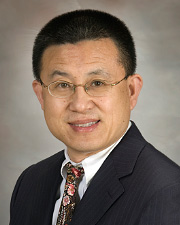 Dr. Zhu Sees Patients at:
UTHealth Neurosciences–Texas Medical Center
(713) 486-8000
6400 Fannin Street, Suite 2800
Houston, TX 77030
Driving Directions