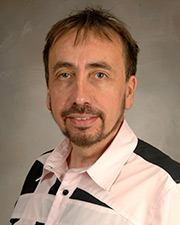 Professor, Department of Neurology
Director, The George and Cynthia W Mitchell Center for Alzheimer's disease and Other Brain Related Illnesses
Mitchell Center for Alzheimer's Disease and Related Brain Disorders
Biography
Dr. Claudio Soto is the Huffington's Distinguished University Chair, Professor of Neurology and Director of George and Cynthia Mitchell Center for Alzheimer's Disease and Related Brain Disorders at The University of Texas Medical School in Houston. Currently he is also the Founder, Vice-President and Chief Scientific Officer of AMPRION Inc.
He received his PhD in biochemistry and molecular biology from the University of Chile in 1993 and was a postdoctoral fellow at the Catholic University of Chile and the New York University School of Medicine, where he became an Assistant Professor in 1995. Between 1999 and 2003, Dr. Soto was Senior Scientist, Chairman of the Department of Molecular Neurobiology and Senior Executive Scientific Advisor for Neurobiology at Serono International in Geneva, Switzerland. Between 2003 and 2008, he served as Director of the George and Cynthia Mitchell Center for Neurodegenerative Diseases and Professor on the Departments of Neurology, Neuroscience & Cell Biology and Biochemistry & Molecular Biology at the University of Texas Medical Branch in Galveston.
Dr. Soto has received numerous awards and has been invited speaker in more than 150 International scientific meetings worldwide. He has been awarded many grants from NIH and private foundations for a total funding of over 30 million dollars. Dr. Soto's discoveries have been extensively highlighted in the scientific literature and lay media with several hundreds of articles published in newspapers, magazines, TV and radio worldwide about his work.
Education
Ph.D

University of Chile, Santiago, Chile

Postdoctoral Fellowship

Catholic University of Chile, Santiago, Chile, and New York University School of Medicine, New York, New York
Areas of Interest
Research Interests
Molecular basis of neurodegenerative diseases associated to the misfolding and brain accumulation of proteins, particularly focusing in Alzheimer's and prion-related disorders.
Publications
Dr. Soto has published more than 100 peer review scientific publications and contributed to more than 20 books, including one written entirely by himself. Many of his studies have been published in the most prestigious scientific journals (including Cell, Nature, Science, Nature medicine, PNAS, Neuron, EMBO J, etc).