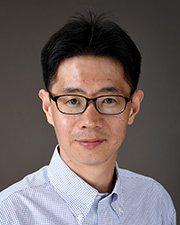 BRAINS Research Laboratory
Biography
Dr. Kim obtained his Ph.D. at Seoul National University, Seoul, South Korea. He joined the lab, led by Dr. Pak Chan at Stanford University School of Medicine and then the lab of Dr. Teresa Sanchez at BIDMC/Harvard Medical School as a postdoctoral fellow. In 2016, he joined the lab of Dr. Sean Marrelli. In the Marrelli lab, he studied how primary cortical infarction affects the injury and new blood vessel formation in thalamus after ischemic stroke.
Dr. Kim was promoted to Instructor in 2018 and to Assistant Professor in 2020 in the Department of Neurology at McGovern Medical School at The University of Texas Health Science Center at Houston. His work has been published in high tier journals, such as Nature communications, Journal of Neuroscience, Blood, and Journal of Cerebral Blood Flow and Metabolism.
Education
Doctorate Degree

Seoul National University, Seoul, South Korea
Areas of Interest
Clinical Interests
Ischemic stroke
Research Interests
Dr. Kim has been interested in the role of reactive oxygen species after ischemia reperfusion in stroke and signal transduction in cerebrovascular diseases.
His current research project focuses on understanding of the molecular and cellular changes such as inflammation and new vessel formation in thalamus induced by primary cortical infarction. To address this question, He utilizes in-vivo animal stroke models with various knockout, transgenic and reporter mice and in-vitro primary cell model system.
Publications