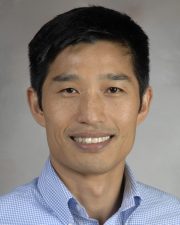 Associate Professor
Director, Basic Stroke Research
BRAINS Research Laboratory
Biography
Dr. Jun Li obtained his Ph.D. from the University of Dublin in Ireland. He then received his post-doctoral training at the University of Connecticut Health Center. In 2009, he secured an Assistant Professor position at the University of Connecticut Health Center with extramural support from the American Heart Association in the form of a national Scientist Development Grant award. He then transitioned to a tenure-track Assistant Professor position after obtaining an R01 and an R21 grants in 2012. Dr. Li joined the Neurology department at UTHealth in 2015 as the Director of Basic Stroke Research.  Dr. Li has served on the grant peer review committee for American Heart Association and has been a manuscript reviewer for many high impact international journals. One of Dr. Li's main areas of interest is to encourage research in students. He has been mentoring medical, pre-med and graduate students for many years in research as a faculty member in the UConn Medical School and here at UTHealth. As an educator, Dr. is additionally enthusiastic about class room teaching and has been teaching courses including neuroanatomy to medical students at UConn and UTHealth.
Education
Doctorate

Neuropharmacology, University of Dublin - Trinity College, College Green, Dublin

Fellowship

Postdoctoral, University of Connecticut Health Center, Farmington, CT
Areas of Interest
Research Interests
Dr. Li's lab aims to identify novel therapeutic approaches to reduce mortality and disability resulting from stroke. Dr. Li's research currently is funded by the National Institutes of Health (NIH) to investigate the neuroprotective roles of calcium/calmodulin-dependent protein kinase (CaMK) cascade in cerebral ischemia. The lab has been investigating axonal plasticity, neuronal and vascular regeneration, as well as brain functional recovery after cerebral ischemia. Dr. Li also has long-standing interests in the profound impact of biological variable including gender and aging on stroke outcome. His team has extensive experience of in vivo and in vitro stroke models, pharmacology, brain blood flow measurements, brain immune regulation, viral vector transduction, models for neurite plasticity studies and long-term brain functional recovery assessments.