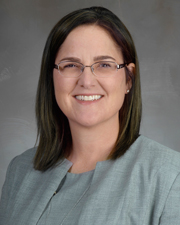 Louise D. McCullough, MD, PhD, FAHA
Professor and Chair
Roy M. and Phyllis Gough Huffington Distinguished Chair
Chief of Neurology, Memorial Hermann Hospital – Texas Medical Center (TMC)
Co-director, UTHealth Neurosciences
Biography
Dr. Louise McCullough is a nationally recognized physician-scientist who is passionate about academic growth.  She received her PhD in Neuroscience from the University of Connecticut.  She then received her Medical Degree from the University of Connecticut School of Medicine.  After graduating from medical school, Dr. McCullough completed her Neurology Residency and Cerebrovascular Disease Fellowship at Johns Hopkins in Baltimore, Maryland.
After completing her training, Dr. McCullough joined the faculty at Johns Hopkins Hospital and began her translational research career. Dr. McCullough relocated to Connecticut in 2004.  She was a Professor in the Departments of Neurology and Neuroscience at The University of Connecticut Health Center and John Dempsey Hospital in Farmington, Connecticut, as well as the Director of Stroke Research and Education at Hartford Hospital, one of the largest stroke centers in New England.  She recently relocated to the University of Texas Health Science Center at Houston and is currently Professor and Chair of the Department of Neurology and Chief of the Neurology Service at Memorial Hermann Hospital-TMC in Houston.
An energetic investigator, she is recognized for her work in cerebral vascular disease. Dr. McCullough is known for her research identifying sex differences in cell death pathways during stroke, which are now recognized as major factors in the response to an ischemic insult. Her laboratory also studies aging and inflammation, and how these factors influence recovery after stroke.  She has been funded by the National Institute of Health and The American Heart Association for her research and has published over 275 papers. She is certified by the American Board of Psychiatry and Neurology and has subspecialty board certification in vascular neurology as well as vascular ultrasound.
Dr. McCullough is a well-respected educator who is passionate about mentoring students and nurturing junior scientists. She is a fellow of the American Heart Association (FAHA) and a member of eight professional societies, including the American Heart Association and the American Academy of Neurology.  Dr. McCullough has given numerous presentations both nationally and internationally and is the recipient of many honors and awards, including the prestigious Javits Neuroscience Investigator Award from the National Institute of Neurological Disorders and Stroke. Dr. McCullough is an active clinician and recognized as one of "America's Top Doctors" since 2008.
Education
Doctorate Degree

University of Connecticut, Storrs, CT

Medical Degree

University of Connecticut School of Medicine, Farmington, CT

Internship

Internal Medicine, Johns Hopkins Bayview Medical Center, Baltimore, MD

Residency

Neurology, Johns Hopkins Hospital, Baltimore Maryland

Fellowship

Cerebrovascular Disease - Neurology and Anesthesiology, Johns Hopkins Hospital, Baltimore Maryland
Publications