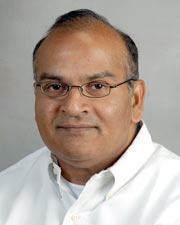 Vascular Neurology - Research
Education
Masters

George Mason University

Doctorate

George Mason University
Areas of Interest
Research Interests
Developing quantitative neuroimaging markers of post stroke natural recovery and patients treated with experimental autologous bone marrow derived mononuclear cells to understand how the transplanted stem cells modulate in brain plasticity, and other repair pathways.
Publications
1.  Haque, ME., Hasan, KM., Vahidy, F., Brown C., Husain, F., Alderman, S., Savitz, SI. Evaluation of Autologous Stem Cells Therapy in Patients with Ischemic Stroke Using Diffusion Tensor Imaging (in-progress)
2.  Haque, ME., Gabr, RE., Vahidy, F., Ponnada, NA., Alderman, S., Savitz, SI. Stem Cell Therapy and Metabolic Surrogate Biomarkers in Patients with Ischemic Stroke. (in-progress)
3.  Haque, ME., Franklin, T., Bokhary, U., Methew, L. Hack, KH., Chang, A., Puri, ST., Pottumarthi PV. Longitudinal Changes in MRI Markers in a Reversible UUO Mouse Model: Preliminary Experience. JMRI, 2014 Apr, 39(4).
4.  Wiszniewski,W; Hunter,VJ; Hanchard, AN; Willer, RJ; Shaw, C; Tian, Q; Illner, A; Wang, X; Cheung, WS; Patel, A; Campbell, I; Hixson, P; Ester, RA; Azamian, SM; Potocki, L; Zapata, G; Hernandez, PP; Ramocki, BM: Regie, LP; Santos, C; Wang,G; York, KM; Justice, M; Chu, DZ; Bader, IP; Omo-Griffith,L; Madduri,SN; Scharer,G; Crawford, PH; Yanatatsaneejit, P; Eifert, A; Kerr, J; Bacino, AC; Franklin AA; Goin-Kochel, R; Simpson, G; Immken, L; Haque, ME; Stosic, S; Williams, MD; Morgan, TM; Pruthi, S; Omary, R; Boyadjiev, SA; Win, KK; Thida, A; Hurles, M; Hibberd, ML; Khor, CC; Chau, NV; Gallagher, TE; Mutirangua, A; Stankiewicz, P; Beaudet, AL; Maletic-Savatic, M; Rosenfeld, JA; Shaffer, LG; Davis, EE; Belmont, LW; Dunstan, S; Simmons, C; Bonnen, P; Leal, MS; Katsanis, N; Lupski, JR; and Lalani, SR., TM4SF20 ancestral deletion and susceptibility to a pediatric disorder of early language delay and cerebral white matter hyperintensities, Am J Hum Genet, 2013. , Aug 8;93(2).