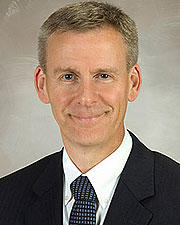 Professor
Director, Neurocognitive Disorders Center
Education
Medical Degree

Boston University School of Medicine, Boston, MA

Internship

Boston Veterans Administration Hospital, Department of Internal Medicine, Boston, MA

Residency

Neurology, Baylor College of Medicine, Houston, TX

Fellowship

Cellular Neurophysiology, Baylor College of Medicine, Houston, TX
Areas of Interest
Clinical Interests
Alzheimer's Disease
Behavioral Neurology
Cognitive Impairment
Concussion
Corticobasal Degeneration
Dementia
Frontotemporal Dementia
Lewy Body Dementia
Memory Loss
Mild Cognitive Impairment
Neurodegenerative Disease
Neuropsychiatry
Normal Pressure Hydrocephalus
Parkinson Disease Dementia
Parkinson Psychosis
Pick Disease
Primary Progressive Aphasia
Progressive Supranuclear Palsy
Traumatic Brain Injury
Publications
1) Albert J. Fenoy, MD1,2, Paul Schulz, MD3, Marsal Sanches, MD2, Sudhakar Selvaraj, MD, PhD2, Christina Burrows, MD3, Bashar Asir, MD2, Christopher R. Conner, MD, PhD1, Joao Quevedo, MD, PhD2, Jair C. Soares, MD, PhD2. Deep brain stimulation of the 'medial forebrain bundle': sustained efficacy of anti-depressant effect over 5 years. In press, Molecular Psychiatry, 02/22/22.
2) Du XL, Song L, Schulz PE, Xu H, Chan W. Risk of developing Alzheimer's disease and related dementias in association with cardiovascular disease, stroke, hypertension and diabetes in a large cohort of women with breast cancer and with up to 26 years of follow-up. Journal of Alzheimer's Disease. 2022; In Press on 02/14/22. PMID: 35311707
3) Fang F, Gao Y, Schulz PE, Selvaraj S, and Zhang Y. Brain Controllability Distinctiveness between Depression and Cognitive Impairment. J Affect Disord. 2021 Nov 1;294:847-856. doi: 10.1016/j.jad.2021.07.106. Epub 2021 Jul 31. PMID: 34375212
4) Kim Y, Savitz SI, Lee J, Chen L, Schulz PE, Jiang X. Counterfactual Analysis of Comorbidity Risk Factors in Alzheimer's Disease and Related Dementias. In press, 01/21/22
5) Bukhbinder AS, Wang AC, Qureshi SU, Arora G, Jawaid A, Kalkonde YV, Petersen NJ, Yu HJ, Kimbrell T, Pyne JM, Magruder KM, Hudson TJ, Bush RL, Kunik ME, Schulz PE. Increased Vascular Pathology in Older Veterans With a Purple Heart Commendation or Chronic Post-Traumatic Stress Disorder. J Geriatr Psychiatry Neurol. 2020 Jul;33(4):195-206. doi: 10.1177/0891988719868308. Epub 2019 Aug 19. PubMed PMID: 31426715.
6) Younes K, Hasan KM, Kamali A, McGough CE, Keser Z, Hasan O, Melicher T, Kramer LA, Schulz PE and the Alzheimer's Disease Neuroimaging Initiative. Diffusion Tensor Imaging of the Superior Thalamic Radiation and Cerebrospinal Fluid Distribution in Idiopathic Normal Pressure Hydrocephalus. J Neuroimaging. 2019 Mar;29(2):242-251. doi: 10.1111/jon.12581. Epub 2018 Nov 20. PubMed PMID: 30461106.
7) Li R, Rui G, Chen W, Li S, Schulz PE, and Zhang Y*. Early Detection of Alzheimer¹s Disease Using Noninvasive Near-infrared Spectroscopy. Frontiers in Aging Neuroscience, 09 Nov 2018. https://doi.org/10.3389/fnagi.2018.00366
8) Childress JE, McDowell EJ, Dalai VV, Bogale SR, Ramamurthy C, Jawaid A, Kunik ME, Qureshi SU, Schulz PE.  Hippocampal volumes in patients with chronic combat-related posttraumatic stress disorder: a systemic review.  J Neuropsychiatry Clin Neurosci.  2013 Mar 1;25(1):12-25.  Doi: 1176/appi.neuropsych.12010003.
9) Shah K, Qureshi SU, Johnson M, Parikh N, Schulz PE, Kunik ME. Does use of antihypertensive drugs affect the incidence or progression of dementia. A systematic review. Am J Geriatr Pharmacother 2009;7(5): 250-261.
10) Kunik ME, Snow AL, Davila JA, Steele AB, Balasubramanyam V, Doody RS, Schulz PE, Kalavar JS, MD, Morgan RO. Causes of aggressive behavior in patients with dementia. J Clin Psychiatry. 2010 Mar 9. [Epub ahead of print]