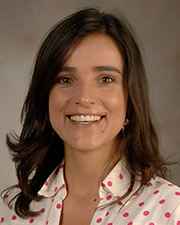 Mitchell Center for Alzheimer's Disease and Related Brain Disorders
Biography
Dr. Pritzkow obtained her research doctorate in biochemistry from the Freie University of Berlin in Germany. She developed in vitro replication systems to study the characteristics of prion replication and to evaluate the efficacy of therapeutic compounds and prion decontamination procedures. In 2011, she joined the group of Dr Claudio Soto as postdoctoral fellow to study the role of the environment in prion transmission.
Currently, Dr Pritzkow is leading a project to obtain regulatory approval to commercialize PMCA for detection of prions in blood of humans infected with variant Creutzfeldt – Jakob disease prions. Furthermore she is participating in the research to expand the principles of PMCA to detect misfolded aggregated proteins implicated in some of the most prevalent neurodegenerative diseases, including Alzheimer's and Parkinson's disease.
Education
Doctorate of Philosophy

Natural Sciences - Freie University of Berlin - Robert Koch-Institute
Areas of Interest
Research Interests
Molecular mechanisms of prion propagation implicated in prion disease and other neurodegenerative disorders
Publications
Concha-Marambio L, Pritzkow S, Moda F, Tagliavini F, Ironside JW, Schulz PE, Soto C. Detection of prions in blood from patients with variant Creutzfeldt-Jakob disease. Science Translational Medicine. 2016; 8(370):370ra183.
Pritzkow S, Morales R, Moda F, Khan U, Telling GC, Hoover E, Soto C. Grass plants bind, retain, uptake, and transport infectious prions. Cell Reports. 2015; 11(8):1168-75.
Pritzkow S, Wagenführ K, Daus ML, Boerner S, Lemmer K, Thomzig A, Mielke M, Beekes M. Quantitative detection and biological propagation of scrapie seeding activity in vitro facilitate use of prions as model pathogens for disinfection. PLOS ONE. 2011; 6(5):e20384.