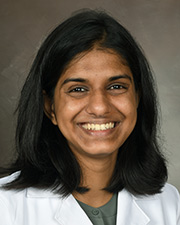 Assistant Professor
Chief of Neurology, Lyndon B. Johnson General Hospital/Outpatient Neurology Clinics at Harris Health
Biography
Shivika Chandra M.D. is an Assistant Professor in the department of Neurology at the McGovern Medical School, Houston and is the Medical Director for Neurology for LBJ Hospital and UTHealth-Houston clinics at Harris Health. She is also serves as the Assistant Clerkship Director for neurology and the Co-Director of the UT-Houston HDSA Center of Excellence.
After completing her medical degree from Manipal University, India, Dr Chandra completed her neurology residency at the UTHealth-Houston where she served as the chief resident and was awarded the frank Yatsu MD Excellence in Residency award and the Senior Resident Teaching award. Subsequently she pursued her fellowship training specializing in movement disorders and neurodegenerative diseases. A board-certified neurologist, she enjoys her dual role as a neurohospitalist in the inpatient setting and seeing patients with general neurologic conditions and movement disorders in the outpatient clinics.
Her research interests include Parkinson's disease, Huntington's disease, telemedicine, and medical education. Dr. Chandra has presented her research findings at numerous regional and national meetings held by the Texas Neurological Society, American Association of Neurology (AAN), American Neurological Association (ANA) and Movement Disorder Society (MDS).
Education
Medical Degree

Kasturba Medical College, Manipal University,

Fellowship

Movement Disorders and Neurodegenerative Diseases, McGovern Medical School, Houston, TX

Residency

Neurology, McGovern Medical School, Houston, TX
Areas of Interest
Clinical Interests
Medical and surgical management of Parkinson's disease
Tremor states
Atypical Parkinsonism
Neurodegenerative diseases
Myoclonus
Huntington's disease
Dystonia
Ataxia
Medical and surgical management of spasticity
Neurodegenerative diseases
Deep brain stimulation/Neuromodulation
Research Interests
Non-motor aspects of Parkinson's disease
Medical education
Quality improvement
Deep brain stimulation in movement disorders