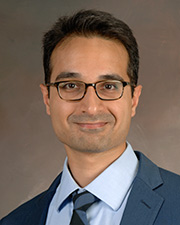 Associate Professor
Director, Vascular Neurology Program
Biography
Dr. Sheth is originally from Houston, TX and attended Harvard University, graduating magna cum laude with an A.B. in Chemistry and Physics.  He received his M.D. from Harvard Medical School and Massachusetts Institute of Technology where he was enrolled in the Health Sciences and Technology Program. He graduated magna cum laude and was also awarded a Howard Hughes Medical Institute Research Fellowship. He completed his residency in Neurology at the University of California, San Francisco where he served as the chief resident, and fellowships in Vascular Neurology and Interventional Neuroradiology at the University of California, Los Angeles. Dr. Sheth is currently an Associate Professor of Neurology at UT Health McGovern Medical School.
Dr. Sheth has co-authored many studies, which have been published in Cell, Nature Biotechnology, PlosONE, and the Journal of NeuroInterventional Surgery. For his research work he has been awarded grants from the American Heart Association (AHA), Society for NeuroInterventional Surgery Foundation, and National Institutes of Health. He has also received numerous honors and awards including the AHA International Stroke Conference Junior Investigator Travel Award, American Academy of Neurology (AAN) Resident Scholarship Award, American Society of Neuroradiology Trainee Award, and the Henry Asbury Christian Award for Excellence in Independent Research from Harvard University.
Education
Undergraduate

Harvard College, Cambridge MA

Medical

Harvard Medical School, Boston, MA

Internship

Stanford University, Stanford, CA

Residency

Neurology, University of California San Francisco, San Francisco, CA

Fellowship

Vascular Neurology, University of California Los Angeles, Los Angeles, CA

Fellowship

Interventional Neuroradiology, University of California Los Angeles, Los Angeles, CA

Board Certifications

American Board of Psychiatry and Neurology, Certification in Neurology
American Board of Psychiatry and Neurology, Certification in Vascular Neurology
Areas of Interest
Clinical Interests
Ischemic Stroke
• Intracranial Hemorrhage
• Subarachnoid Hemorrhage
• Endovascular treatments for stroke
• Endovascular treatments for cerebral aneurysms
• Cerebral vascular malformations including arteriovenous malformations and arteriovenous fistulas
• Spinal vascular malformations
• Facial vascular malformations
• Tumor embolization
Research Interests
Endovascular stroke therapy
• Perfusion angiography
• Neuroimaging
• Biomarkers of cerebral injury
• Endovascular device development
• Traumatic brain injury
Endovascular treatments for acute ischemic stroke have revolutionized our ability to restore patients suffering from stroke back to health. However, many questions still remain. Dr. Sheth's research interests include improving our understanding of who benefits from endovascular treatments for ischemic stroke, and how to best treat these patients. His work uses both clinical research techniques as well as advanced neuroimaging analyses to address this question. In addition, Dr. Sheth leads an effort to develop minimally invasive endovascular treatments to treat chronic neuropathic pain, in a collaborative effort with Baylor and Rice University.
Publications
1. Kamal H, Lopez V, Sheth SA. "Machine Learning in Acute Ischemic Stroke Neuroimaging." Frontiers in Neurology (2018). doi: 10.3389/fneur.2018.00945
2. Dula AN, Luby M, King BT, Sheth SA et al. "Neuroimaging evaluation of ischemia in men and women: an observational study." Annals of Clinical and Translational Neurology (2019). Doi: 10.1002/acn3.733
3. Saber H, Navi BB, Grotta JC, Kamel H, Bambhroliya A, Vahidy FS, Chen PR, Blackburn S, Savitz SI. McCullough L, Sheth SA. "Real-world Treatment Trends in Endovascular Stroke Therapy." Stroke (2019). doi:10.1161/STROKEAHA.118.023967
4. Lee S, Yoo AJ, Marquering HA, Berkhemer OA, Majoie CB, Dippel DWJ, Sheth SA for the MR CLEAN Investigators. "Accuracy of 'At Risk' Tissue Predictions Using CT Perfusion in Acute Large Vessel Occlusions." Journal of NeuroImaging (2019). https://doi.org/10.1111/jon.12595
5. Sheth SA, Lopez-Rivera L, Lee S, Savitz SI, Liebeskind D, Grotta JC. "14th International Symposium on Thrombolysis, Thrombectomy and Acute Stroke Therapy: Proceedings and summary of discussions." International Journal of Stroke (2019). doi.org/10.1177/1747493019838760
6. Barman A, Inam ME, Lee S, Savitz SI, Sheth SA*, Giancardo L*. "Determining Ischemic Stroke from CT-Angiography Imaging Using Symmetry-Sensitive Convolutional Networks." IEEE International Symposium on Biomedical Imaging (2019).
7. Saber H, Rajah G, Sheth SA. "Utilization and safety of extracranial-intracranial bypass surgery in symptomatic steno-occlusive disorders." Brain Circulation (2019). Doi: 10.4103/bc.bc_33_18
8. Hadley C, Sheth SA, Fargen KM, Srinivasan V, Cherian J, Chen S, Johnson J, Kan P. "Mechanical thrombectomy for acute stroke in patients with target and unrelated vessel AVMs and AVFs." World Neurosurgery (2019). Doi: https://doi.org/10.1016/j.wneu.2019.04.019.
9. Capoglu S, Savarraj J, Sheth SA, Choi HA, Giancardo L. "Representation learning of 3D brain angiograms, an application for cerebral vasospasm prediction." International Conference of the IEEE Engineering in medicine and Biology Society (EBMC) (2019)
10. Czap AL, Grotta JC, Parker SA, Yamal JM, Bowry R, Sheth SA, et al. "Emergency Department Door-to-Puncture Time Since 2014: Observations from the BEST-MSU Study." Stroke (2019). https://doi.org/10.1161/STROKEAHA.119.025106