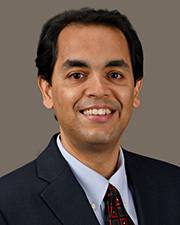 Mitchell Center For Alzheimer's Disease & Brain Disorders
Biography
Dr. Mukherjee, a Chemistry graduate from Presidency College, Kolkata, received his PhD in Biochemistry and Molecular biology from The University of Texas Medical Branch at Galveston in 2012. With the goal to translate his dissertation work into therapy, he joined Harvard Neuro Discovery Center (HNDC) as a HNDC fellow and studied process of drug discovery and development. Subsequently, he joined The University of Texas Health Science Center at Houston (UTHealth) as a postdoctoral fellow. He was appointed as an Assistant Professor in the Department of Neurology, McGovern Medical School at UTHealth in 2020. Dr. Mukherjee's research is published in journals, including Nature, Journal of Experimental Medicine and recognized by multiple awards and fellowships, including Harvard Neuro Discovery Center fellowship, Young Investigator Award from Alzheimer's Drug discovery foundation and Mitchell Center Innovation award. Dr. Mukherjee enjoys teaching and cherishes the opportunity to be always surrounded by an everlasting milieu of spirited, curious and energetic trainees from racially and scientifically diverse background.
Education
Doctorate Degree

Biochemistry and Molecular Biology, The University of Texas Medical Branch - Galveston, Galveston, TX

Postdoctoral Fellowship

McGovern Medical School at UTHealth - Houston, TX
Areas of Interest
Research Interests
Cellular heterogeneity in brain development and disease; neuronal genomic mosaicism in health and disease; development of tools to understand biology of single cells within their spatial context; leveraging overlapping brain disease mechanisms to identify novel drug targets; cell therapy for brain diseases.
Research Information
The brain is composed of different cell types such as neuron, astrocyte, microglia and oligodendrocyte. Most of these cell types encompass various sub types. This heterogeneous population of cells orchestrates complex functions including reasoning, judgment, social interaction, and memory, which define us as humans. Our goal is to understand how brain diseases, such as Alzheimer's disease (AD), perturb this symphony between diverse cell types. We envision that restoring these interactions to normalcy will prevent brain malfunction associated with these diseases. The rodent brain differs from human brain with respect to the proportion of different cells, organization and gene expression profile. Additionally, the human genomic landscape makes us specifically susceptible to brain diseases. Remarkable technological advances enable in vitro generation of three-dimensional human brain-like tissue known as brain organoids. Brain organoids can be generated from human induced pluripotent stem cells (iPSCs) and provide a unique opportunity to study the cellular diversity of the human brain in a dish. In order to understand the function of human brain cells in vivo, we have also developed mouse models harboring human brain cells (chimeric mouse). Using brain organoids and chimeric mice as models, single-cell and spatial transcriptomic techniques as tools, we are studying the role of cellular heterogeneity in brain health and diseases. The following are our current research focus.
Understanding the role of cellular heterogeneity in the brain region specific vulnerability associated with AD and Parkinson's disease (PD).
Development of novel tools to investigate the molecular events governing the initiation and spread of protein aggregation pathology associated with AD and PD at single cell resolution.
Leveraging the overlapping genetic associations among brain diseases, such as in AD and Schizophrenia to identify novel druggable targets.
Understanding the role of genomic mosaicism in the cellular diversity of brain in health and diseases.
Publications
Publication Information
Shahnawaz M, Mukherjee A, Pritzkow S*, Mendez N*, Rabadia P, Liu X, Hu Bo, Schmeichel A, Singer W, Wu G, Tsai A ,Shirani H, Nilsson PR, Low PA, Soto C. Discriminating α-synuclein strains in Parkinson's disease and multiple system atrophy. Nature, 2020, 578(7794):273-27.
Mukherjee A*, Morales-Scheihing D*, Salvadores N*, Moreno-Gonzalez I, Gonzalez C, Taylor-Presse K, Mendez N, Shahnawaz M, Gaber AO, Sabek OM, Fraga DW, Soto C. Induction of IAPP amyloid deposition and associated diabetic abnormalities by a prion-like mechanism. The Journal of Experimental Medicine, 2017, 214, 2591-2610.
a. This article has been highlighted in Science.
b. Selected as one of the 10 best papers published in JEM,2017
c. Covered by multiple news agencies, including The Times UK and US News.
*equal contribution
Mukherjee A, Morales-Scheihing D, Gonzalez-Romero D, Green K, Taglialatel G, and Soto C. Inhibition of Calcineurin activation increases survival and decreases neurodegeneration at the clinical phase of prion disease. PLoS Pathogens, 2010, 6, 1-12.
Barria MA, Mukherjee A, Gonzalez-Romero D, Morales R. and Soto C. De novo generation of infectious prions in vitro produces a new disease phenotype. PLoS Pathogens, 2009, 5, 1-10.