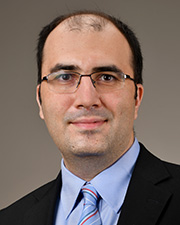 Biography
Dr. Shoraka grew up in Tehran, the beautiful populous capital city of Iran where it has the magnificent Alborz Mountain view in its north side. He graduated from University of Shahid Beheshti Medical Sciences in Tehran, Iran. His real passion for  neurology began when he started working with Dr. Ramon Bautista at the University of Florida about the social stigma of epilepsy. His professional pathway begin to develop when he received priceless clinical and research experience in dementia and general neurology working with Dr. Kenneth Heilman and his neuro-behavioral team also at the University of Florida.
Dr. Shoraka completed his internship at Lincoln Hospital of Bronx, NY followed by a Neurology Residency at McGovern Medical School and received the teaching award in his 4th year. He completed his training with a Clinical Neurophysiology Fellowship at UTMB Galveston. His priority in neurology is providing meticulous attention and care to all his patients.
Education
Medical Degree

Shahid Beheshti University of Medical Sciences - Tehran, Iran

Residency

Neurology, McGovern Medical School - Houston, TX

Fellowship

Clinical Neurophysiology, University of Texas Medical Branch - Galveston, Texas
Areas of Interest
Clinical Interests
General neurology
Epilepsy
Stroke
Neuromuscular disorders
Movement disorders
Neuro-behavioral disorders
---
Research Interests
Epilepsy
Neuromuscular disorders
Publications
Publication Information
1. Shoraka AR, Otzel DM, M Zilli E, et al. Effects of aging on action-intentional programming. Neuropsychol Dev Cogn B Aging Neuropsychol Cogn. 2018;25(2):244-258.
2. Bautista RE, Shoraka AR, Shapovalov D. Factors associated with superior self-management skills among individuals with epilepsy. Epilepsy Behav. 2014;41:221-6.
3. Bautista RE, Shapovalov D, Shoraka AR. Factors associated with increased felt stigma among individuals with epilepsy. Seizure. 2015;30:106-12.