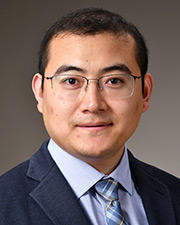 Epilepsy - Neuroinformatics
Biography
Dr. Tao was trained as a software engineer at Nanjing University (2006-2010), China, where he learned all the skills about software development: requirements solicitation, programming, testing, deployment, etc.
He continued his education in Case Western Reserve University and graduated in 2016 with a Ph.D. in computer science. He also spent time at Case Western as a research associate in the Center for Clinical Investigation. Starting in 2015, he took the position of lead developer and project manager at the University of Kentucky's Institute of Biomedical Informatics. He remained at the University of Kentucky as an Assistant Professor in the Department of Internal Medicine before he joined McGovern Medical School at UTHealth – Houston Center at Houston as an Assistant Professor in February 2019 for new endeavors in neuro-informatics.
Education
Master's Degree

Computer Science, Case Western Reserve University Cleveland, Ohio

Doctorate Degree

Computer Science, Case Western Reserve University Cleveland, Ohio
Areas of Interest
Research Interests
Neuro-informatics:
1. Ontology-driven Clinical Data Management including data capture, integration, cross-cohort faceted query, data visualization, and temporal query.
2. Deep learning and its application in healthcare problems such as SUD prediction, sleep spindle detection and sub-typing, PGES detection, etc.
Publications
Publication Information
1. Zhang GQ, Cui L, Mueller R, Tao S, Kim M, Rueschman M, Mariani S, Mobley D, Redline S. The National Sleep Research Resource: towards a sleep data commons. Journal of the American Medical Informatics Association. 2018 May 31;25(10):1351-8.
2. Tao S, Cui L, Wu X, Zhang GQ. Facilitating Cohort Discovery by Enhancing Ontology Exploration, Query Management and Query Sharing for Large Clinical Data Repositories. AMIA Annual Symposium Proceedings 2017, pp. 1668-1677.
3. Tao S, Walter B, Gu S, Zhang GQ. Web-Interface-Driven Development for Neuro3D, A Clinical Data Capture and Decision Support System for Deep Brain Stimulation. HIS 2016; pp. 31-42
4. Tao S, Cui L, Zhu W, Sun M, Bodenreider O, Zhang GQ. Mining Relation Reversals in the Evolution of SNOMED CT Using MapReduce. AMIA Joint Summits on Translational Science 2015, pp. 46-50.
5. Sahoo SS*, Tao S*, Parchman A, Luo Z, Cui L, Mergler P, Lanese R, Barnholtz-Sloan JS, Meropol NJ, Zhang GQ. Trial Prospector: Matching Patients with Cancer Research Studies Using an Automated and Scalable Approach. Cancer Informatics, 2014;13:157-166.