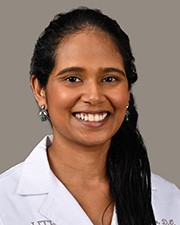 Biography
Dr. Pradeep graduated from Philadelphia College of Osteopathic Medicine in 2015. In 2019, she completed her residency training in Neurology at the University of Kentucky and was chief resident. She completed her fellowship training in Movement Disorders at McGovern Medical School in 2020.
Dr. Pradeep provides care and treatment for patients with Parkinson's disease, Parkinson-plus syndromes, dystonia, tics, chorea, ataxia, restless leg syndrome, myoclonus, and tremor. She also performs botulinum toxin injections for neurological conditions and deep brain stimulation programming for Parkinson's Disease, essential tremor, and dystonia.
Dr. Pradeep is committed to helping movement disorder patients by explaining what is happening to them and providing available resources and treatments that can help. She believes comprehensive education can help empower patients and their families to navigate the challenges that come along with a movement disorder diagnosis. Her motto is "treat people, not diseases." She values communication and believes it is an important part of the doctor-patient relationship to understand each patient's concerns and experiences before coming up with their individualized treatment plan.
In her free time, Dr. Pradeep enjoys reading, traveling, and painting.
Education
Medical Degree (DO)

Philadelphia College of Osteopathic Medicine – Suwanee, GA

Residency

Neurology, University of Kentucky - Lexington, KY

Fellowship

Movement Disorders, McGovern Medical School - Houston, TX
Areas of Interest
Clinical Interests
– Movement Disorders
– Parkinson's Disease
– Tremor
– Dystonia
– Ataxia
– Spasticity