Electromyography Laboratory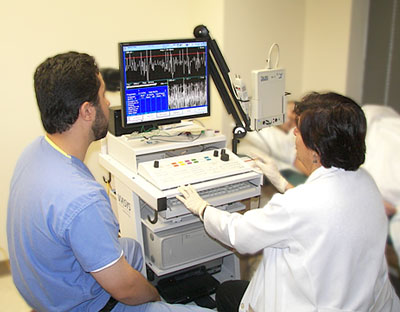 Yuri Salas – EMG Technologist
Stephanie Harvey – EMG Technologist
Tel: 832.325.7573
Fax: 713.512.7118
Email: utpemglab@uth.tmc.edu
Our nationally accredited laboratory provides comprehensive nerve conduction studies and EMG evaluations. It is equipped with state-of-the-art technology and experienced staff who have expertise in neurodiagnostic testing.
---
Referral Services
The AANEM Accredited UTHSC EMG lab provides primary and referral services for patients with a variety of neuromuscular diseases, including, but not limited to:
Peripheral Neuropathy
Acquired and hereditary (symptoms of pain, numbness, and/or weakness)
Motor neuron diseases
ALS, Spinal Muscular Atrophy, etc.
Muscle disorders
Myopathy, Muscular Dystrophy, etc.
Neuromuscular junction disorders
Myasthenia Gravis
Radiculopathy/Plexopathy
Entrapment neuropathies
Carpal Tunnel Syndrome, Ulnar and Peroneal neuropathies
Traumatic nerve injury
Including evaluation of the Brachial Plexus
Facial neuropathy
Thoracic Outlet Syndrome
---
Electrodiagnostic studies include
Nerve conduction study
Electromyography
Repetitive nerve Stimulation
Blink Reflexes
Cranial nerves studies
Single fiber electromyography
Facial/Trigeminal neuropathy
Since electrodiagnostic evaluation is an extension of clinical findings, we perform focused neuromuscular examinations, including history and physical, before performing the electrical test. A comprehensive report is provided to the referring physician in a timely manner.
Our philosophy of patient-centered care includes respect for the individual patient's values, physical comfort, and emotional support. Communication with our patients, as well as involved family and friends, is an important aspect of our care.
Expedited referrals or evaluations can be arranged. Please feel free to contact us to inquire.
---
Faculty