Acute Stroke
UT Stroke Treatment Acute Team (UT-STAT)
The Acute Stroke Division of the Stroke Program provides emergent care to patients with acute ischemic stroke and evaluates all patients for t-PA treatment and investigational treatment options.
Vision
Continue to lead acute stroke care in the nation with an experienced clinical stroke team by forging strong partnerships with EMS and Emergency Medicine, running a high quality Inpatient Stroke Unit, and conducting clinical trials testing innovative therapies.
Highlights of our program include:
 Comprehensive stroke care certified by the Joint Commission – the only one in Texas
24/7 stroke care provided by vascular neurologists, stroke fellows , and cerebrovascular and endovascular surgeons
Dedicated stroke coverage of the emergency department 24/7
Dedicated 12 Bed Inpatient Stroke Unit
 Strong partnership with Emergency Medicine and EMS
Our stroke team is pre-notified by the paramedics that a patient with suspected stroke is being taken to our hospital
The stroke team has its own CT scanner and office in the emergency center
 Highest t-PA treatment rates in the region
Our faculty administers t-PA more often and more effectively than most hospitals across the nation.
A long history of careful research and experience to expand treatment options for t-PA use
 State of the Art Rapid Diagnostic Evaluation
Neurosonology: Our ultrasound team can rapidly evaluate patients in the emergency department for artery blockages and determine blood flow patterns in the brain.
Neuroimaging: All patients with a possible stroke are evaluated with advanced imaging by  CT scans and MRI technologies that can rapidly identify areas of injury, where arteries are blocked, and can assist in deciding which patients may be candidates for advanced treatment options
Neuroradiological Expertise:  Radiologists specialized in neuroimaging are available 24/7
Strong commitment to developing home grown, innovative therapeutic approaches to enhance the effects of t-PA
Please see research below on the range of innovative treatments that we are developing
Show pictures here or below under research studies – hands free device and Doppler studies
Endovascular therapy
Our center offers in selected patients state of the art endovascular therapy using the latest devices to effectively remove clots.
Access to leading stroke doctors and cerebrovascular surgeons
Hospitals can call our transfer center line (713-704-2577) to speak with one of our on-call stroke physicians at any time 24/7.
Patients who require a higher level of care have access to Memorial Hermann Life Flight or may choose another air ambulance service to be quickly transported to our Comprehensive Stroke Center
We accept all patients from our network hospitals, regardless of resource status, in accordance with agreed-upon transfer guideline-based protocols.
History
Who We Are
Our team consists of  6 vascular neurology faculty and 6 stroke fellows.  For many years through Dr. Grotta's leadership, we have utilized employed an acute stroke protocol that begins with pre-hospital alert that allows our physicians, research nurses and coordinators and neurosonologists to meet the patient at the ER door.  In conjunction with the ER physicians and nurses, patients are rapidly triaged and taken to CT.  We have significantly reduced our "door-to-needle" times via this process with many cases treated <30 minutes after arrival.  Our rapid stroke response team facilitates enrollment into clinical trials (see research section below) so that current and future patients might benefit further from emergent reperfusion or neuroprotection strategies.
We use telemedicine to conduct clinical trials at partner hospitals
We identify and conduct clinical trials by telemedicine for eligible patients who qualify for our studies at outside facilities.  For emergent treatment trials, we have successfully enrolled patients into a randomized study at the partner hospital –bringing the study to the patient.  For clinical trials that allow a longer window for enrollment, we have identified the patient via telemedicine and flown them to our center for enrollment.
Research
ARgatroban T-PA Stroke Study (ARTSS) Trial:  Argatroban, an intravenous anticoagulant, may increase the speed and effectiveness of t-PA by more rapidly and completely opening up blocked arteries.  We are conducting and coordinating a phase II, multicenter, randomized clinical trial testing whether it is safe and effective to combine Argatroban with t-PA.  There are 13 participating stroke hospitals across the US and the United Kingdom.
Principal Investigator: Andrew Barreto
CLOTBUST-ER:  Our center pioneered the development of externally-applied ultrasound to enhance the effect of t-PA.  We led a phase I/II NIH-sponsored trial testing the initial safety of a novel hands-free ultrasound device in both non-stroke and stroke patients who received t-PA.  Currently, we are participating in the pivotal phase III trial to test whether a hands free device that delivers ultrasound with t-PA will prove better than t-PA alone to improve outcome (reduce disability) after stroke.
Principal Investigator: Andrew Barreto
Hypothermia (ICTUS):  Our center has been at the forefront of developing approaches to protect the brain during a stroke.  Hypothermia is a highly promising modality that improves outcome in patients with cardiac arrest.  We are leading a trial in partnership with the University of California San Diego to test the safety and efficacy of hypothermia in patients treated with t-PA.
Principal Investigator: Nancy Edwards
DIAS:  We are participating as a site in a trial testing a new clot busting agent, desmoteplase that has a much wider window of 9 hours after stroke onset.  The desmoteplase medication was developed from vampire-bat saliva. Principal Investigator: Andrew Barreto
Mobile Stroke Unit:  Through generous philanthropic donations, our center has designed, built and is currently testing in a clinical trial a mobile stroke unit (MSU).  A CT scanner is installed in a customized ambulance.  Stroke care (initial physician evaluation, CT scan to rule out hemorrhagic stroke, point-of-care blood testing and tPA treatment) takes place at the patient's location (home/work) rather than waiting for hospital arrival.  Delivering local stroke care should reduce the time to t-PA treatment by a significant amount.
Principal Investigator: James Grotta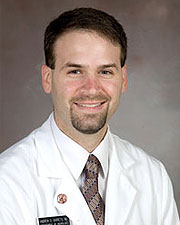 Andrew Barreto, MD
Division Lead, Acute Stroke