Andrew D. Barreto, MD
Neurologist
Associate Professor
Vivian L. Smith Department of Neurosurgery
McGovern Medical School at UTHealth Houston
Dr. Andrew Barreto is an Associate Professor at McGovern Medical School at UTHealth Houston.
Board certified in both Neurology and Vascular Neurology, Dr. Barreto sees patients of all ages.
Dr. Barreto enjoys hospital care as well as clinic follow-up with his patients. He believes in easy access and communication with his patients.
Education/Training
Medical School
Wake Forest University, 2002
Residency
University of Alabama at Birmingham, 2006
Fellowship
University of Texas Health Science Center at Houston, 2008
Clinical Interests
Stroke, Vascular Disease, Intracerebral Hemorrhage, Thrombolysis, Management of Acute Stroke
Board Certification
American Board of Psychiatry and Neurology
Vascular Neurology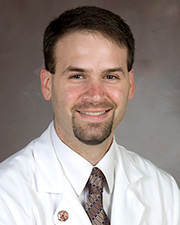 Dr. Barreto Sees Patients at:
UTHealth Houston Neurosciences Neurology-Texas Medical Center
6410 Fannin St., Suite 1014
Houston, TX 77030
Phone: (832) 325-7080