Hiral P. Patel, MD
Pain Medicine Specialist
Clinical Assistant Professor
Vivian L. Smith Department of Neurosurgery
McGovern Medical School at UTHealth Houston
Dr. Hiral Patel is fellowship trained in chronic pain management and board certified in anesthesiology and pain management. Her areas of expertise include management of both cancer and non-cancer pain and all aspects of interventional pain management.
A native Houstonian, Dr. Patel earned her bachelor's degree in molecular and cell biology with an emphasis in biochemistry from the University of California, Berkeley. She received her medical degree at Texas A&M Health Science Center College of Medicine and completed residency training in anesthesiology at McGovern Medical School at UTHealth Houston, where she was Clinic Resident of the Year.
Subsequently, she completed an ACGME-accredited fellowship in chronic pain management at The University of Texas MD Anderson Cancer Center. She has been recognized with numerous academic and research awards and is an active community volunteer. Dr. Patel is fluent in English, Hindi and Gujarati.
Dr. Patel is experienced in all aspects of interventional pain medicine, including:
• Vertebral augmentation by kyphoplasty and vertebroplasty
• Spinal cord stimulation trials
• Epidural steroid injections
• Facet joint and medial branch blocks as well as radiofrequency ablation
• Sacroiliac joint injections and radiofrequency ablation
• Diagnostic sympathetic and neurolytic blocks
• Peripheral joint injections
• Botox® and trigger point injections
• Occipital nerve injections
• Intercostal nerve injections
At UTHealth Houston Neurosciences-Southeast, patients have access to an in-office procedure suite. Here, Dr. Patel is able to perform procedures such as epidural steroid injections, nerve blocks, and joint injections, helping patients feel better faster without having to go to a hospital or surgery center.
Collaboration with Referring Physicians
Physicians affiliated with UTHealth Houston Neurosciences engage referring physicians in the care of their patients, keeping them informed about patient progress throughout the evaluation and treatment process. After a patient's treatment, referring physicians receive a summary and a plan for follow-up. Our physicians encourage continued communication about each patient.
Education/Training
Medical School
Texas A&M College of Medicine, 2012
Fellowship
University of Texas M.D. Anderson Cancer Center, 2017
Residency
University of Texas Health Science Center at Houston, 2016
Board Certification
American Board of Anesthesiology
Anesthesiology
Pain Medicine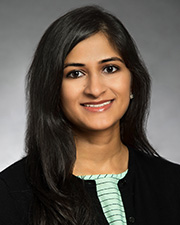 Dr. Patel Sees Patients at:
UTHealth Houston Neurosciences – Southeast
11920 Astoria Blvd, Suite 292
Houston, TX 77089
Phone: (713) 486-7970
Fax: (713) 486-7979
UTHealth Houston Neurosciences – Sugar Land
17520 W Grand Parkway South, Suite 450
Houston, TX 77479
Phone: (713) 486-7800
Fax: (713) 486-7830