Joseph C. Hsieh, MD
Neurosurgeon
Assistant Professor
Vivian L. Smith Department of Neurosurgery
McGovern Medical School at UTHealth
Joseph Hsieh, MD, is a fellowship-trained, board certified neurosurgeon with expertise in neurosurgical treatment of disorders of the spinal column and cord. He specializes in complex spinal reconstruction as well as minimally invasive approaches.
Dr. Hsieh is a graduate of Stanford University with a master's in biology. He holds both an MBA and an MPH from the Anderson School of Management and the School of Public Health at the University of California, Los Angeles. He received his medical degree from Harvard Medical School. Prior to joining UTHealth Neurosciences, Dr. Hsieh completed his residency in neurosurgery at the University of Chicago and a complex spine fellowship at Cedars-Sinai Medical Center in Los Angeles under J. Patrick Johnson, MD.
Dr. Hsieh has presented his work on policy in neurosurgery and spine both nationally and internationally and continues his research on quality originally initiated during the time he spent in Washington, D.C., as the Plante Policy fellow for the Congress of Neurological Surgeons.
Dr. Hsieh is committed to providing quality outcomes and exceptional patient experiences for those who suffer from conditions of the spinal cord and column.
Education/Training
Medical School
Harvard Medical School, 2004
Residency
University of Chicago Medical School, 2011
Fellowship
The Spine Institute Center for Spinal Restoration, 2012
Clinical Interests
Deformity, Disc herniation, Fracture, Infection, Myelopathy, Radiculopathy, Spinal AVMs, Spinal stenosis, Spondylolisthesis, Spondylosis, Tumor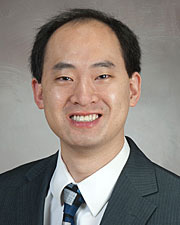 Dr. Hsieh Sees Patients at:
UTHealth Neurosciences Southeast
11920 Astoria Blvd, Suite 292
Houston, TX 77089
Phone: (713) 486-7970
Fax: (713) 486-7979