Manish N. Shah, MD
Pediatric Neurosurgeon
Associate Professor, Devane Distinguished Professor, Departments of Pediatric Surgery and Neurosurgery
Division of Pediatric Neurosurgery
Director, Texas Comprehensive Spasticity Center
McGovern Medical School at UTHealth Houston
Director, Pediatric Spasticity and Epilepsy Surgery
Children's Memorial Hermann Hospital
Manish N. Shah, MD, is fellowship-trained in pediatric neurosurgery with special expertise in pediatric epilepsy, craniofacial and craniocervical spine surgery. He is also an expert in the surgical management of spasticity and dystonia in children, and performs selective dorsal rhizotomies, baclofen pump placements and advanced deep brain stimulation.
An associate professor in the Department of Pediatric Surgery at McGovern Medical School at UTHealth, Dr. Shah earned his undergraduate degree in physics at Princeton University and his medical degree at Vanderbilt University in Nashville, Tennessee. He completed his residency in general surgery and fellowships in neurosurgery at Barnes-Jewish Hospital, Washington University, St. Louis, Missouri, and pediatric neurosurgery at St. Louis Children's Hospital in St. Louis. He received a clinical research award in 2009 and a medical student teaching award in 2010. At Washington University, Dr. Shah learned the surgical treatment of spastic diplegia with selective dorsal rhizotomies from one of the technique's pioneers, Dr. Tae Sung Park.
He is an author of research articles published in Proceedings of the National Academy of Sciences, Journal of Neurosurgery, Neurosurgery, Neurosurgical Focus and Journal of Neurosurgery: Pediatrics, as well as a book chapter entitled "Congenital and Acquired Abnormalities of the Thoracic and Lumbar Spine," published in Youmans: Neurological Surgery. He is a member of the American Association of Neurological Surgeons and the American Association of Neurological Surgeons/Congress of Neurological Surgeons' Joint Cerebrovascular Section and Joint Pediatrics Section.
Dr. Shah is committed to providing outstanding pediatric neurosurgical care, including:
Pediatric epilepsy surgery
Pediatric craniofacial surgery
Pediatric craniocervical spine surgery
Selective dorsal rhizotomy for spastic cerebral palsy
Deep brain stimulation for dystonia
Education/Training
Medical School
Vanderbilt University School of Medicine , 2006
Residency
Washington University , 2013
Fellowship
St. Louis Children's Hospital – Washington University, 2014
Board Certification
American Board of Neurological Surgery
Neurological Surgery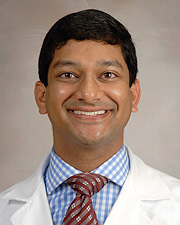 Dr. Shah Sees Patients at:
6410 Fannin St., Ste. 950
Houston, TX 77030
(832) 325-7242
(713) 512-2220