Mimi M. Dang, MD
Neurologist
Clinical Assistant Professor
Vivian L. Smith Department of Neurosurgery
McGovern Medical School, UTHealth
Dr. Mimi Minh-Ngoc Dang is dual fellowship trained and certified by the American Board of Psychiatry and Neurology with expertise in general neurology, memory disorders, and electro-neurophysiology. She is also a Clinical Assistant Professor in the Vivian L. Smith Department of Neurosurgery at the McGovern Medical School at UTHealth.
Dr. Dang received her medical degree from the University of Arkansas for Medical Sciences College of Medicine, where she also completed an internship. After completing her residency in neurology at The University of Texas Southwestern Medical School in Dallas, Dr. Dang moved to Houston, where she began the first of two fellowship training programs.
Her first fellowship included specialized training in Alzheimer's disease and dementia at Baylor College of Medicine Alzheimer's Disease and Memory Disorders Center, where she conducted extensive research in a number of clinical trials funded by the National Institutes of Health aimed at Alzheimer's prevention and treatment.
Dr. Dang completed her second fellowship in clinical neurophysiology at McGovern Medical School at UTHealth with additional expertise in EEG, EMG, and NCS.
Dr. Dang is committed to providing quality outcomes and exceptional patient experiences for those who suffer from memory disorders and other neurological conditions. Her clinical expertise includes:
• Back Pain
• Dementia
• Dizziness
• Electroencephalography (EEG)
• Electromyography (EMG)
• Headache
• Memory Loss
• Nerve Conduction Studies (NCS)
• Seizure Disorders
• Stroke
• Tremor
Collaboration with Referring Physicians
Physicians affiliated with UTHealth Neurosciences engage referring physicians in the care of their patients, keeping them informed about patient progress throughout the evaluation and treatment process. After a patient's treatment, referring physicians receive a summary and a plan for follow-up.
They encourage continued communication about each patient.
Education/Training
Medical School
University of Arkansas for Medical Science College Of Medicine, 1996
Fellowship
University of Texas at Houston Graduate Medical Education, 2016
Fellowship
Baylor College of Medicine, 2002
Residency
University of Texas at Southwest Medical Center, 2000
Internship
University of Arkansas for Medical Science, 1997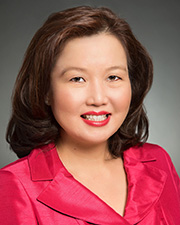 Dr. Dang Sees Patients at:
UTHealth Neurosciences Southwest
7777 SW Freeway, Suite 840
Houston, TX 77074
Phone: (713) 486-8080
Fax: (713) 486-8090