Nitin Tandon, MD
Neurosurgeon
Professor and Chairman ad interim
Vivian L. Smith Department of Neurosurgery
McGovern Medical School, UTHealth Houston
Nitin Tandon, MD, is the Chairman ad interim and professor of neurosurgery at McGovern Medical School at UTHealth Houston. He is also currently chief of the epilepsy surgery program.
Dr. Tandon has served as a clinician at UTHealth Houston since 2004 and has recently formed the Texas Institute for Restorative Neurotechnologies (TIRN) to study and develop new treatments for brain disorders, where he serves as co-director. He has performed over 4,000 brain operations, including more than 1,500 for brain tumors and 1,000 for epilepsy.
Dr. Tandon specializes in the surgical treatment of epilepsy, brain tumors, and trigeminal neuralgia, and has pioneered a number of innovative technologies and minimally invasive approaches including robot-assisted stereo-electro-encephalography and laser ablation. In parallel, his research interests yield fundamental insights into the processes of cognition and epilepsy using intracranial recordings, non-invasive imaging data, and cortical stimulation. These discoveries will pave the way for innovative rehabilitative and neuro-prosthetic approaches to the resolution of brain disorders such as intractable epilepsy.
Dr. Tandon's research is currently funded by several National Institutes of Health grants including a BRAIN initiative award, and by the NSF. He has authored over 75 peer reviewed publications in journals such as Nature Neuroscience, Brain and JAMA Neurology and is a member of several professional organizations. He is a clinical leader in the treatment of epilepsy, as well as an avid scientist delving into its underlying causes and future therapies.
Education/Training
Medical School
Armed Forces Medical College, 1992
Residency
University of Texas Health Science Center at San Antonio , 2003
Fellowship
Cleveland Clinic, 2004
Clinical Interests
Medically Refractory Epilepsy, Trigeminal Neuralgia, Low-grade Gliomas, Malignant Brain Tumors, Pituitary Tumors, Chiari Malformations, General Neurosurgery
Board Certification
American Board of Neurological Surgery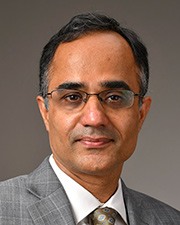 Dr. Tandon Sees Patients at:
UTHealth Neurosciences–Texas Medical Center
(713) 486-8000
6400 Fannin Street, Suite 2800
Houston, TX 77030