Peng R. Chen, MD
Neurosurgeon
Associate Professor
Vivian L. Smith Department of Neurosurgery
McGovern Medical School, UTHealth
Dr. P. Roc Chen is a board-certified neurosurgeon, sub-specializing in open cerebrovascular, endovascular neurosurgery, and skull base neurosurgery, with expertise in brain aneurysms, arteriovenous malformations, carotid disease, acoustic neuroma and skull base tumors.
An associate professor of neurosurgery at the McGovern Medical School at UTHealth, Dr. Chen received his medical degree from Sun Yat-Sen University of Medical Sciences in Guangzhou, China, followed by residencies at Brigham and Women's Hospital and Children's Hospital of Harvard Medical School. He has completed fellowships in neurointerventional radiology at Brigham and Women's Hospital of Harvard Medical School, in cerebrovascular and skull base surgery at Barrow Neurological Institute and in neuroendovascular surgery and cerebrovascular neurosurgery at Thomas Jefferson University Hospital.
Dr. Chen has authored and co-authored many peer-reviewed publications in cerebrovascular disease and other subjects in neurosurgery, particularly flow shearing related brain aneurysm formation, subarachnoid hemorrhage management and surgical and endovascular techniques in treating brain aneurysms. He is currently the principal investigator for a multi-center randomized clinical trial in the treatment of cerebral vasospasm following subarachnoid hemorrhage, due to brain aneurysm rupture. He is involved in multiple clinical trials using the latest endovascular technology in the treatment of brain aneurysms and carotid disease, as well as brain AVMs (arteriovenous malformations).
One of Dr. Chen's specialties includes treatment of brain occlusive disease (for example moyamoya disease, which causes stroke), by performing extracranial to intracranial bypass anastomosis surgery. His expertise includes treating a large number of complex acoustic neuromas and other skull based meningiomas.
Education/Training
Medical School
Sun Yat-Sen University Medical School, 1987
Residency
The First Affiliated Hospital of Sun Yat-Sen , 1995
Residency
Harvard Medical School, 2003
Fellowship
Harvard Medical School, 2004
Fellowship
Barrow Neurological Institute of St. Joseph Hospital, 2005
Fellowship
Thomas Jefferson University Hospital, 2006
Clinical Interests
Dr. Chen's specialties and interests include:
Carotid and vertebral occlusive diseases, carotid and vertebral stenosis, stroke
Intracranial occlusive diseases (requiring endarterectomy, bypass or stenting)
Moyamoya disease
Intracranial aneurysms and subarachnoid hemorrhages
Brain arteriovenous malformations, arteriovenous fistulas
Skull base brain tumors
Acoustic neuroma
Spinal arteriovenous malformation and fistula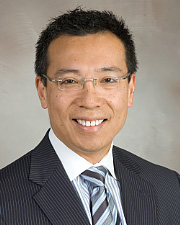 Dr. Chen Sees Patients at:
UTHealth Neurosciences–Texas Medical Center
(713) 486-8000
6400 Fannin Street, Suite 2800
Houston, TX 77030
Driving Directions